By
Phil
- 22 February 2023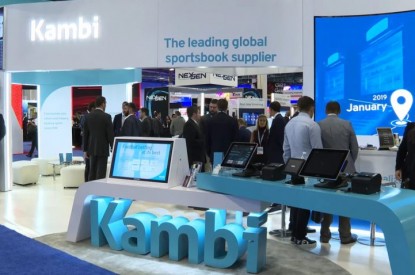 Kambi Group saw its operator turnover grow by 20 per cent year-on-year in the fourth quarter and 43 per cent sequentially, driven by return of busy US sporting calendar and market expansion.
Revenue amounted to €57.8m for the fourth quarter of 2022, including a €12.6m termination fee from PENN Entertainment, and €166m for the period January to December of 2022. Operating profit (EBIT) for the fourth quarter of 2022 was €18.7m.
Revenue increased 30 per cent, excluding the termination fee, on the back of a strong operational performance.
A successful soccer World Cup saw strong platform stability and a leading offering for partners, powered by newly developed algorithmic trading capability. Kambi signed a new partnership agreement with Rei do Pitaco, the number one fantasy sports operator in Brazil, which will leverage brand and database to transition to sports betting.
Highlights after Q4 included an agreement with Rush Street Interactive, one of the leading operators in the Americas, to extend their partnership. The company has extended its footprint in North America with day one market launches in Massachusetts and Ohio which have a combined population of nearly 20m.
Kambi has also reported continued commercial momentum with the signings of Miami Valley Gaming in Ohio and del Lago Resort & Casino in New York, as well as the renewal of Sun International in South Africa.
Kambi Group plc's CEO Kristian Nylén said: "The year finished with a flourish with the business delivering across several key areas, providing the perfect springboard into 2023. Operator turnover continues to rise with Q4 turnover up 20% year-on-year and 43 per cent sequentially, buoyed by a busy US sporting calendar.
The soccer World Cup was also an important event for us during the period. Overall, player engagement was excellent with the World Cup final the highest turnover for a soccer game in Kambi's history. However, the trade-off was a significant reduction in domestic soccer fixtures as top leagues took a mid-season break. A key World Cup highlight was the strength of our product, driven by our third-gen algorithmic trading capability, which we discussed in depth at our recent Capital Markets Day.
This new method of trading automation has been in development for a few years, with the World Cup providing us with the perfect opportunity to stress-test it at scale and we couldn't have been happier with its performance. Powering our entire pre-match offering, this proprietary capability leverages the full power of data to deliver an even greater product, with more betting opportunities presented to the player in a quick and cost-efficient way. Since the World Cup, we have fully automated the pre-match pricing to deliver a World Cup standard product across many of the top domestic leagues and will continue the roll out across the year to realise more of its benefits, including the automation of in-play pricing.
Just days after the World Cup final, we signed a partnership agreement with Rei do Pitaco, the largest fantasy sports operator in Brazil. I have high hopes for this partnership, having seen the impact fantasy sports databases can have when transitioned to regulated sports betting. The agreement also strengthens our position in Latin America, where we have already taken the leadership position in Colombia and continue to expand in Argentina, adding a further four provinces during the quarter.
Looking back on the full year, it was one where Kambi was able to make significant strategic progress, whether it was securing partnership extensions with Kindred and Parx, the numerous new partners we signed, the leap forward in our UX capability through the acquisition of Shape Games, the continued modularisation of our service to increase our addressable market or the development of our algorithmic trading capability.
All these achievements and more saw us enter 2023 in a fantastic position, one which was quickly strengthened by the extended partnership agreement with Rush Street Interactive in January. The global economic outlook might be uncertain, but we have a proven, robust business, one which is ready to meet any challenges that lie ahead. With a clear focus on the updated strategy we detailed at our Capital Markets Day, we are ready to build towards the financial targets we've set ourselves for the coming years."