By
Phil
- 20 June 2016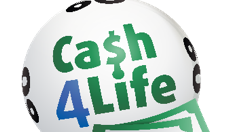 Lottoland has launched a new game that will see Brits play for the chance to make 'Grandhog Day' a reality – waking up with an extra £1,000 every day for the rest of their life.
Cash4Life jackpot winners will be able to start each day with an extra £1,000 in their bank – whether they want to splash the cash on something new every day or save over a period of time, they are guaranteed to wake up with a new jackpot.
Lottoland is the online department store for lotteries around the world, allowing UK residents to bet on the outcome of the world's biggest and best lotteries – with the chance to win jackpots of the same value. There are 29 lotteries available to choose from, including the likes of the EuroMillions, US MegaMillions, US PowerBall, Spain's El Gordo, and a host of others across Australia and Europe.
Lottoland CEO, Nigel Birrell, expressed his excitement at the launch of Cash4Life, saying: "The £1,000 a day for life jackpot is the ultimate early retirement package! The best thing about Cash4Life is that every day you'll get up knowing you're a thousand pounds richer than you were the day before.
"At Lottoland we want to offer UK residents the opportunity to win the world's biggest jackpots and not be limited to domestic lotteries. Lottery has evolved and we're committed to growing our offering and service to ensure players are able to take part in even more lotteries with even more chance of winning multimillion jackpots every day."
Available exclusively to UK Lottoland customers, Cash4Life draws take place twice every week on Monday and Thursday nights with players selecting five numbers for a stake of £2. The jackpot prize is £1,000 a day for the rest of your life with a second prize for £1,000 a month.