By
Phil
- 22 September 2022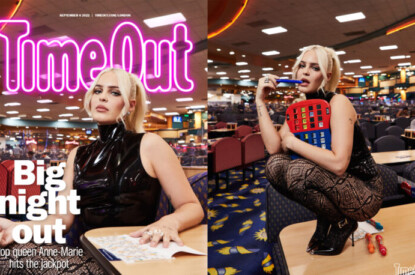 Last week, MERKUR Bingo welcomed pop star and A-lister Anne-Marie to its Cricklewood venue for an exclusive photo shoot with TimeOut Magazine.
The 'Rockabye' star who shot to fame in 2018 and has since amassed more than 9 million followers on Instagram, 20 million monthly Spotify listeners, 10 Brit award nominations and is a primetime TV star as a judge on the voice alongside Tom Jones, Oli Murs and Will I Am said: "I've always loved bingo.'
As part of the article Anne-Marie says she knows all the OG (original game) calls by heart: 41, 'time for fun', 'Legs 11'; 55 'snakes alive. Talking about lockdown, she adds: 'I was the bingo person on Zoom. It was a weekly activity with friends.'
Welcoming her to the 2,700-capacity MERKUR Bingo was venue manager, Stephen Young. He said: "We were delighted to host someone as famous as Anne-Marie at Cricklewood. It was great to see her enjoying herself and of course we extended the invitation for her and her mates to come down any time and enjoy a game of bingo in real life instead of on Zoom.
While she is quoted as saying: "Standing on a table in the middle of a bingo hall today with my bum out was one of the proudest things I've ever done." Steve admits that is not something that happens every day with his regulars.
Cricklewood, whose biggest ever winner bagged an eyewatering £100,000, has two bars, a restaurant that enjoys extensive menus and the opportunity to play the latest slot gaming machines, alongside a designated smoking area.