By
Phil
- 8 August 2023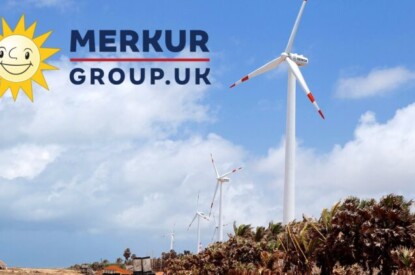 Following the launch of its partnership with leading climate action platform Ecologi which saw it fund the planting of 25,000 trees, Merkur UK has launched a second stream of environmental activities with the organisation. 
Phase two has seen MERKUR UK support a small-scale onshore wind farm in Sri Lanka, helping the avoidance of 2,000 tonnes of CO2e which is the equivalent of 1,535 long haul flights, saving 6,000sqm of sea ice or 4,962,000 car miles (7,985,564 km).
Tony Boulton, Merkur UK's Director of Public and Political Relations, believes that the scale of the problems facing the world should not deter businesses from looking at ways in which they can contribute to help slow down the environmental crisis.  
He stated: "The tree planting programme we have funded will see 25,000 trees established across 5,700 hectares in Southern Kenya. When you know that the 7-year target is over 14million it becomes clear that projects such as this require lots of companies and organisations to do whatever they can. Similar arguments apply to renewable energy. The project we are supporting in Sri Lanka will prevent just short of 19,000 tonnes of CO2e through wind power.
"The value of being a good corporate citizen is an important part of the culture which runs through MERKUR and I'm delighted that we've been able to add to our initial support and to contribute to such a fantastic programme of work."