By
Phil
- 11 March 2014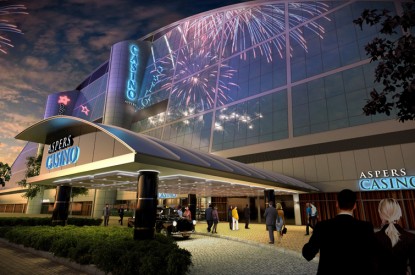 Asper's Casino MK in Milton Keynes has attracted more than 300,000 customers in its first six months of operation.
As the largest casino outside London, The Casino MK offers 108 slot machines, 22 gaming tables, 76 electronic gaming terminals and a Poker room to seat 150 players. As one of the new 'large' licences, it can also offer higher jackpot limits in than most casinos. Only two 'large' licences have opened so far. Four jackpot winners have won a total of £57,000 between them.
Richard Noble, Chief Operating Officer at Aspers Group, said: "We are delighted with the performance of The Casino MK in its first six months of operation, which has exceeded our expectations. The most pleasing aspect for me has been the overwhelmingly positive reaction of our customers, with over 96 per cent of people visiting in the opening few weeks confirming they planned to visit again."
The property has created over 200 jobs and has directly benefitted students at K College with skills training and providing 'real-world' opportunities. It also created the Milton Keynes CARG group (Community Action for Responsible Gaming) to constructively address problem gambling issues in the community it operates within.