By
Phil
- 25 April 2016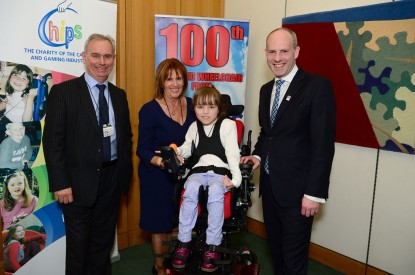 Minister for Disabled People, Justin Tomlinson MP, joined representatives from Praesepe, at a special House of Commons ceremony to present its 100th customised powered wheelchair to eight year old, Faye Baggaley from Derby.
Thanks to the joint fundraising efforts of customers and staff at Praesepe's, Cashino AGC's and Beacon Bingo Clubs, the company has raised in excess of £500,000 for CHIPS, the charity set up on behalf of the gaming industry, which provides specialised wheelchairs for children and young people with severe mobility problems.
Faye, who suffers from a severe form of cerebral palsy and is unable to walk unaided or use a manual wheelchair, travelled to London from Chaddesden in Derby with her parents, to receive the new, customised powered wheelchair. She was presented with her new wheelchair by Nick Harding, CEO of Praesepe Group and Minister for Disabled People, Justin Tomlinson MP.
Speaking after the presentation, Nick Harding said: "It is fantastic to be able to mark this milestone achievement at the House of Commons with the support of the Minister. What is really significant about Praesepe's relationship with CHIPS, is that all 1700 people in the company have played a full part in helping to raise the money that makes such a profound difference to so many.
"Each year the teams at Cashino and Beacon undertake wave after wave of inspirational, money raising ideas involving colleagues, customers, friends and family. I should also add that we continue to receive tremendous support from our friends and suppliers in the industry for which we are extremely grateful. Since we embarked on our relationship with CHIPS in 2006, this wonderful charity, which doesn't take a single penny in expenses, has become part of our company DNA and long may that continue."
Co-founder of CHIPS, Linda Lindsay, said: "Cashino and Beacon Bingo have been nothing short of amazing raising over £500,000, to fund 100 powered wheelchairs for children up and down the country. Thanks to the generosity of the gaming industry, in all of its guises, CHIPS has received over £1,500,000 to date, delivering some 400 wheelchairs to children throughout the UK. It is a remarkable achievement which has literally transformed the lives of so many children and their families and one which the gaming industry should be enormously proud of."
Faye is pictured above with Nick Harding, Linda Lindsay and Minister for Disabled People, Justin Tomlinson MP.