By
Lewis
- 16 September 2013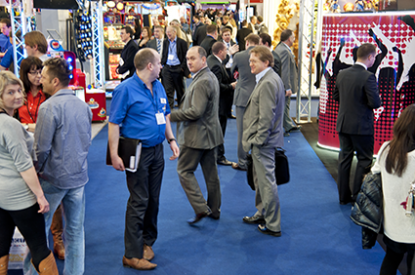 EAG International has now completed four successful years earning itself a unique position within the amusements and attractions sectors. However, as the doors closed on this year's event, and after a brief respite, the show's team has been busy focusing on the task of preparing an EAG International 2014 which aims to even surpass all previous events.
Show organiser Karen Cooke is certainly in no doubt about the need to continuously strive for improvement: "Despite the economic climate, EAG International has continued to grow. There is a real risk that as a trade show becomes established, it becomes formularised. We know from our supporters that the basics are right; ExCel is a highly professional venue and the traditional timing of the third week in January is perfect for the industry.
"Even after 15 years of exhibition management, I never cease to be surprised by the number of people who think we disappear at the end of the show for an 11 month holiday! We've spent the last eight months consulting with the show's many interest groups, taking new ideas on board and refining the show's offering. EAG International's main function is to provide a platform for doing business and we take our part in this very seriously," promised Karen.
EAG International Chairman Martin Burlin is positive about the upcoming EAG International 2014: "The industry is far from euphoric about future prospects but there appears to be potential for greater optimism than in recent years," he suggested.
"For many operators, the MGD demons have now been exorcised and with a great summer behind us and the Triennial finally in prospect, purchasing plans are being laid for the forthcoming year.
"Government is also finally recognising the plight of our coastal towns with a number of public and private sector development projects under way," concluded Martin.
Online registration for the 2014 show commences on Tuesday October 1st, coinciding with the launch of a new-look EAG International website. Karen Cooke explains: "The show's website has had a complete makeover. We very much see www.eagexpo.com  as an up to date resource and hope that both visitors and exhibitors will visit regularly to catch up on the latest news and information about the show and its exhibitors.
"The re-designed site is simpler to use with everything in one place, be it online registration, stand booking, hotel reservations and advice about travel to ExCel.  We would urge visitors to register and arrange accommodation as soon as possible as next year we will be sharing ExCel with another expo and hotel space will be in high demand," cautioned Karen.
EAG's exhibitors are set to benefit from a wider promotional campaign with new press and media partners reflecting the show's increasing appeal to the leisure and attractions sectors.
Karen Cooke continues, "Exhibitors place a great deal of trust in us and we must continue to add value by heavily promoting the show to potential buyers, both in the UK and overseas. Currently we're working with more than 50 publications and we will provide assistance to exhibitors by working with them to promote new products and initiatives on their behalf – it's all part of the service," she confirmed.
Closer to the event, EAG International's new media campaign will swing into action, circulating news and views on product launches and innovations, as well as the numerous networking events surrounding the show.
The dates 21 – 23rd January should be firmly marked in the diaries of amusements and attractions industry professionals. With so many things to see, people to meet and opportunities awaiting, it would be difficult to imagine a better start to 2014.
Register now at www.eagexpo.com