By
Phil
- 17 February 2020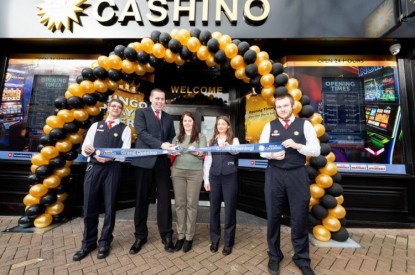 Adult gaming centre, Merkur Cashino has celebrated re-launches in Northampton, Kings Lynn, Doncaster, Bridgwater, Ipswich, Rochdale, Luton and Leeds in January and February following a series of £200,00 refurbishments.
Northampton Manager, Alan Beal said: "One of the main attractions of Cashino is the social side of gaming we provide to our customers, and the key aim of the refurbishment was very much to enhance this social aspect. "With that aim in mind, we've added a serviced bar area – serving a selection of fresh coffee and soft drinks, plus a new food menu. We've also added the latest games along with the favourites, digital advertising screens; all of which gives the venue a real modern casino feel.
"The atmosphere and entertainment throughout the day was brilliant, and the feedback we got from both existing and new customers was tremendous. They loved the look and the feel of the new Merkur Cashino, and really enjoyed our new coffee and food menus."
The refurbishment is part of a nationwide programme of gaming centre redevelopment that will eventually see all 165 Praesepe-owned Cashino's in the UK refurbished. Recent refurbs include Kings Lynn, Doncaster and Bridgwater, Ipswich, Rochdale, Luton and Leeds.
Praesepe's Chief Operating Officer, Mark Schertle, underlined the sheer size of Gauselmann's investment in the UK and the faith the company has in the industry.
"This level of investment will ensure that all of our venues over the next few years will be modernised to become the 'go to' place for premium low stake gaming experiences on the High Street. In terms of our machine strategy, there has also been a significant increase in investment into the products on offer across the Merkur Cashino and Beacon Bingo estate encompassing the Blueprint Aurora and Alphastar through to the Equinox cabinets."
"As the environments our customers play in improve we have upgraded the uniform, coffee machines, crockery and seating. By significantly strengthening our learning and development department, under Lynn Lockley, we will be ensuring the consistency of high standards are achieved across the UK."