By
Phil
- 9 March 2016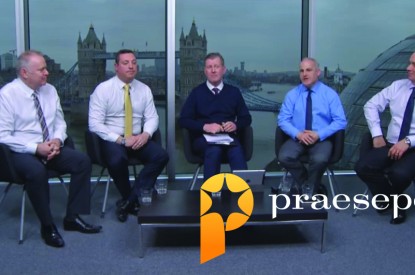 Praesepe has broken new ground, opting to stage its annual machine symposium via a live webinar, broadcast from television studios adjacent to London's Tower Bridge.
UK and European machine manufacturers who were invited to be part of the televised webinar were able to involve their entire R&D teams in the Praesepe initiative. The Symposium was first launched seven years ago in order to assist in the development of player-centric gaming machines for customers of the market-leading Cashino Adult Gaming Centres and Beacon Bingo Clubs which are operated by Praesepe and are such a popular feature on the British high street.
Reviewing the 2016 Machine Symposium, Praesepe CEO, Nick Harding said: "The Symposium concept has proved to be an incredibly important first in the industry and a successful method of explaining where Praesepe sees the business moving and what we need in terms of gaming equipment which really engages with our various customer profiles.
"Whilst meeting face to face with our manufacturing colleagues at a central venue in Milton Keynes was perfectly adequate, crucially, it restricted the numbers participating to two and in some cases just one of the business principals. Clearly, no one is going to be able to take their entire R&D teams to an off-site meeting but we know that a significant number of companies felt able to involve entire departments of games designers in all or part of the webinar."
He added: "All we need is for one clever mind to connect with any of the themes we discussed and it could result in a game changing product. The webinar format also allowed us to share our thinking with colleagues in Germany and Austria, which was an added bonus."
Nick Harding's summary of the event was shared by Quentin Stott, Managing Director of Reflex Gaming who confirmed: "This was another really good and progressive initiative from Praesepe. The format enabled us to involve all those people in the Reflex team who have an interest in game design.
"It was professionally executed and the content chimed with our vision for low stake gaming and the research that we have been conducting with machine players. It's in all of our interests to develop more player-centric gaming entertainment and the Praesepe Machine Symposium continues to play an important role in helping to expedite such an outcome. Certainly, the webinar staged by Praesepe has set the bar very high for the rest of the industry."
The one hour, live, television broadcast quality webinar featured contributions from Praesepe CEO, Nick Harding, Head of Machines, Nigel Davis, Beacon Bingo Operations Director, Larry Kehoe and Cashino Operations Manager, Steve Ambrose. The event, which also featured an interactive audience Q&A, was moderated by Chris Jones, Director of GB Media.