By
Phil
- 19 April 2021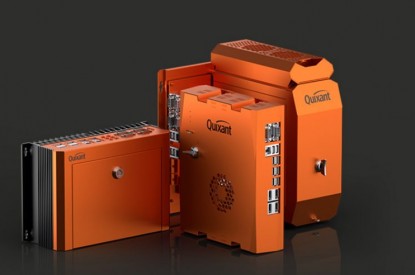 Quixant has launched a new range of gaming hardware platforms, which has options for all needs and budgets.
The product ranges are IQ – Gaming intelligence, which is big on performance and big on value, IQON – Gaming brilliance, which offers elite performance with endless possibilities and QMAX – Gaming dominance, which offers ultimate power with ultimate performance.
The new range has been expertly designed to meet the needs and regulations of the gaming world, to provide customers with maximum performance based on their budget, market and product needs and includes a product category designed to cater to markets where value for money is key.
All of Quixant's gaming hardware platforms include the market-leading Quixant Software Hub, a host of effective software solutions that are designed to optimise your game development and delivery and enable you to develop your games without limits. Our team of Gaming technology experts are always on hand to help you seamlessly integrate all elements of your games and enhance the performance of your platform and Software Hub solutions.
Duncan Faithfull, Chief Commercial Officer at Quixant, said: "The last year for Quixant has been about preparing for the future and providing the gaming industry solutions that deliver exceptional gaming experiences to a global consumer audience with a pent-up desire to enjoy the thrill of gaming once again. Quixant has listened to its customers and the needs of the market and is delighted to be launching a new range of gaming hardware platforms that caters to the evolving needs of the gaming industry."
"Your business is bringing brilliant games to market, and not developing hardware solutions to build them on. You need a technology partner who gives you freedom to develop your games with the confidence that your solution is reliable; ready to go; and as powerful as your imagination needs it to be. That's why Quixant will be the perfect technology provider and partner for you."
With the QMAX Lite, slot designers can take their games as far as their imagination can go, without compromise on quality and performance. Highly configurable and powered by Intel, it offers exceptional GPU performance and advanced gaming configuration in a tray and backplane format.
Building on the QMAX Lite, which includes Quixant's game optimising Software Hub solutions, allows for one of the most powerful and feature rich gaming hardware platforms on the market to develop world-class game content on. The QMAX meanwhile is a highly configurable tray backplane platform with a discrete GPU option, offering exceptional GPU performance and enabling advanced gaming configuration.
The IQON is a versatile and powerful all in one platform able to manage a wide range of game complexities. This fanless model is a high-performance solution with full I/O capabilities, which enhances game performance.
The platform includes the market leading Quixant Software Hub, game optimising solutions to unleash creativity and focus on delivering extraordinary game content. With more features and benefits inside the IQON, this premium solution gives you the perfect platform to develop and deliver market-leading games in record time.
The IQON Air is suitable for a wide range of game complexities and is our most versatile and powerful all in one platform. This fanned model is a high-performance solution with full I/O capabilities which will allow designers to push game design to the limit.
Quixant's IQ hardware platform is suited to game developers looking to satisfy a range of standard performance requirements. Designed with the demands of the market in mind, this efficient, cost-effective fanless platform delivers excellent performance and value.
The IQ Air is a fanned all in one hardware platform developed to meet a range of standard gaming performance requirements. Unlike no other, it's the only product on the market to offer the level of power and functionality at it's accessible price point.