By
Phil
- 23 September 2014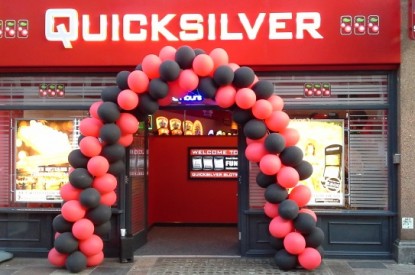 Talarius, the UK's largest operator of Adult Gaming Centres, is pleased to have relaunched its Quicksilver venue in Clapham Junction, London, following a major refurbishment.
The modernised venue has been transformed into a next generation model which sets the standard for future arcades. With expanded floor space, the venue benefitted from the largest refit Talarius has carried out in several years. The number of machines more than doubled from around 40 to over 90, and the venue now includes four of the industry leading Storm Cabinets. With unlimited games available on each of these machines, this new server based technology supplies an open platform that can deliver both old favourites and new content. Furthermore, the venue will now be used as a testing ground to trial new, up and coming machines and content as they develop.
The number of staff in the venue also doubled, with employees undergoing over 1,000 hours of training to bring them up to speed on the new machines and strengthen their ability to identify and deal with instances of problem gambling. This ensures that they are able to provide the best possible customer service and consumer protection.
The upgraded venue was officially launched with a Las Vegas themed evening, which saw guests play Blackjack with a professional Croupier. This was followed by a Fairground Fun day, including a hot dog cart, candy floss machine, stilt walkers and a juggler.
Talarius is also refurbishing its Quicksilver venue in Sunderland up to the same standard, which will be open to customers from October. The refurbishments form part of Talarius' wider long term growth strategy to increase its market share and ensure Quicksilver, Silvers and Winners venues across the country are welcoming more customers through their doors.
Talarius' Chief Operating Officer Peter Harvey said: "We are delighted to have launched this outstanding venue, which serves as an example of the high quality that Talarius venues are capable of achieving. The upgrades will increase operational efficiency and ensure that we are providing the best possible service for our customers, keeping them coming back again and again. We are certain that the modernisation of this venue will be the first of many."