By
Phil
- 13 June 2018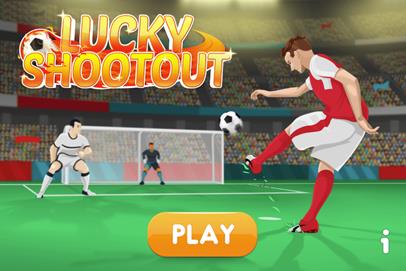 Twelve40 has rolled out a new instant win title, Lucky Shootout, in time for the World Cup.
Taking the form of a penalty shootout, Lucky Shootout gives players the opportunity to select their favourite teams and challenge a goalkeeper in the ultimate test of nerves.
After the player picks their spot, the imposing goalkeeper has both the agility to pull off a great save and the attitude to let the player know they were fortunate to score.
The game features a wide range of language and currency options, in-game replays and an autoplay option.
The default pay-out system is scalable and the game is highly configurable to different leagues and the needs of individual markets, with higher prizes as more goals are scored.
Andrew Jarrett, CEO at Twelve40, said: "Lucky Shootout gives players the opportunity to experience the pressure of a penalty shootout for themselves, lacing up their proverbial boots for engaging and visually arresting gameplay.
"An instant win opportunity is a great way for players to get a quick football fix between games, and have an even more exciting World Cup experience."
The release of Lucky Shootout follows a concerted period of commercial expansion for Twelve40 Group, having integrated Wazdan's content portfolio into its proprietary platform and penned a strategic partnership with live lottery provider Pin Projekt.