By
Phil
- 19 June 2014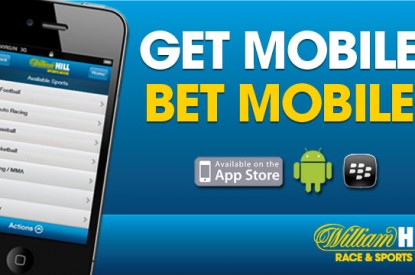 William Hill's industry-leading iOS Sportsbook App has now been downloaded 2m times.
Fittingly, the landmark figure was reached on the weekend of England's first FIFA World Cup 2014 match, following a large spike in downloads.
William Hill is an Official Supporter of the England Football Team.
Launched in 2012, it hit one million downloads in just over a year and reached 1.5m in early 2014. It has already been downloaded more than 80,000 times in the five days since the start of the FIFA World Cup.
In March this year, William Hill also launched the app on Android while in recent weeks iOS versions were launched in both Spain and Italy in time for the World Cup.
William Hill's to Online and Mobile betting was illustrated last November when it opened a 3,900 sq ft technological 'centre of excellence' in Shoreditch, east London.
Commenting on the 2m downloads, Juergen Reutter, Operations Director, William Hill Online, said: "This is a fantastic achievement and one of which we are extremely proud. Since we launched in 2012 we have aimed to offer the best, most seamless, customer experience regardless of screen size, device or operating system. Mobile is a fantastic way to engage with our customers anytime, anywhere and our iOS App has been fundamental in building that relationship. We don't stand still and we constantly aim to improve our products. To pass two million downloads shows we are listening to our customers and giving them the products and services they demand and expect from Britain's No1 bookmaker."