By
Phil
- 24 April 2015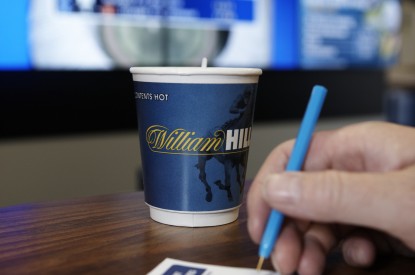 The introduction of Point of Consumption tax as well as increased taxation on its gaming machines, hit William Hill hard in the first quarter of 2015 with operating profit down by 19 per cent.
Point of Consumption tax stood cost an additional £20m whilst the increased machine tax has hit 25 per cent. Sports betting revenues were also impacted by the largest ever loss-making week in January. Whilst group net revenue was up one per cent, operating profit fell by £16m.
James Henderson, Chief Executive Officer of William Hill, said: "As expected, Group operating profit was impacted by a £20m increase in gambling duties following the introduction of POCT in December 2014 and the increase in the MGD rate in March 2015. After a weak January, we saw improved wagering trends over the remainder of the quarter. Online wagering grew 20 per cent in February and March, and 29 per cent for the Cheltenham festival. Gross win margins were below our expected trading range for what is typically a stronger quarter, impacted by, amongst other things, our largest ever loss-making week in Week 3.
"In Retail, the underlying revenue trend remained resilient and we are on track to complete the Eclipse gaming machine roll-out in Q2. Operating profit benefited from the changes we made to the staffing model in April 2014 as well as from the reduction in costs driven by shop closures."
After a slow start to the year, Retail's performance improved in February and March in both wagering and gaming. Excluding the 108 shops that were closed last year in response to the planned increase in gaming tax, over-the-counter (OTC) wagering was down two per cent OTC gross win fell two per cent and gaming machines net revenue was up four per cent. The average number of shops was 2,361, down from 2,431 i the first quarter of 2014, with one shop opened and two closed in the period.
Mr. Henderson added: "We are well positioned to benefit as the UK online market evolves following the introduction of POCT, with our ongoing technology investments expected to benefit both product and customer experience and with a substantial marketing commitment.
"Our international strategy continues to progress. In Australia, the migration of Sportingbet customers to williamhill.com.au has been successfully completed, with over 95 per cent of Sportingbet VIP clients transacting on the site since launch and with both first time deposits and unique actives showing post-migration increases against Sportingbet last year. William Hill US continues to perform strongly, with wagering on a local currency basis 30 per cent ahead of last year.
"Looking forward, as the end of the football season draws closer, we have not as yet made up the shortfall arising from the £14m loss in Week 3 given the relatively weak first quarter sports betting margin. Out with sporting results, we are making good progress on our key projects for the year, including in-house development of our responsive design front-end through Project Trafalgar, an enhanced bonus engine to further increase the competitiveness of our proprietary Vegas casino platform and the completion of our Eclipse machine roll-out in Retail."