By
Phil
- 4 March 2019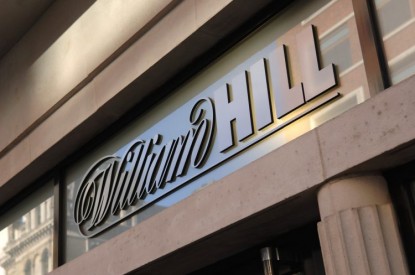 Shares in British bookmaker William Hill fell by 2.1 per cent as it posted a large loss having written down the value of its high street shops by almost £900m ahead of the introduction new FOBT limits.
The company's shares have already fallen by 50 per cent over the past year.
Group net revenue were up two per cent to £1,621.3m for the year with adjusted operating profit from existing operations down three per cent to £266.8m, which the company said was 'in line with expectations.'
Paul Hickman, analyst at Edison Investment Research said: "A £33.2m operating loss gives a taste of the future as setup and marketing costs in increasing numbers of states create the conditions for major future profit contributions. William Hill is in the early stages of a goal to double profits by 2023. This involves opening up multiple US states as they create regulatory environments following the Federal ruling in May 2018, development of the online business, and managing down the UK retail estate, accelerated by the burdens of the £2 stake limit and increased remote tax imposed by the 2018 Triennial Review. The existing business grew operating profit 84 per cent to £32.6m, driven by an increase in mobile."
The bookie said it was hit by exceptional charges and adjustments of £922.1m including, as previously reported, £882.8m non-cash impairment to retail following the Triennial Review decision leading to statutory loss before tax of £721.9m.
Philip Bowcock, Chief Executive Officer of William Hill, said: "2018 was a busy and decisive year for us. Key regulatory decisions in the UK and US gave us much needed clarity to set a new five-year strategy and a goal to double profits by 2023. We have three businesses at different stages, with Online growing in the UK and diversifying internationally, Retail being remodelled in response to the new £2 stake limit, and rapid expansion in the US sports betting market. Underpinning this, we have taken a clear leadership stance around safer gambling with our Nobody Harmed ambition.
"Against this backdrop, we delivered a good underlying performance in Online, strong growth in the US Existing business and a resilient Retail outturn in the face of difficult high street conditions.
"We have started delivering on our strategy with the expansion of our US business, being first out of the blocks in all states that have regulated sports betting, and with the acquisition of Mr Green, which will support the build-out of our international digital business. We have also put our weight behind reducing the amount of TV gambling advertising seen by under 18s through a voluntary whistle-to-whistle advertising ban before the watershed.
"We know the next few years will require careful navigating and investment, but with a clear strategy and diverse, experienced leadership teams in place we are ready to capitalise on the opportunities available to us."
Mr. Hickman added: ""Hill's biggest risk is that its major US growth opportunity must be executed within exacting UK regulatory standards, and the even more demanding climate of UK public mistrust towards gambling operators. The £6m fine in February 2018 by the Gambling Commission marks a low point for the company in its regulatory profile, one that it must in the future be seen to be putting behind it. This has engendered the 'nobody harmed' strategy with a suite of enhanced warnings designed to identify and manage problem gambling behaviours."
The US Expansion business is now live in six states, with access secured to 17 in total. Online revenue grew three per cent with active users up 25 per cent. But after increases in Remote Gaming Duty, the horseracing levy, marketing costs, and customer due diligence checks operating profit declined two per cent to £130.2m. The retail business shrank its operating profit seven per cent as a result of decline in Sportsbook betting after racing cancellations, which exceeded the benefit from the World Cup.