By
Phil
- 19 January 2016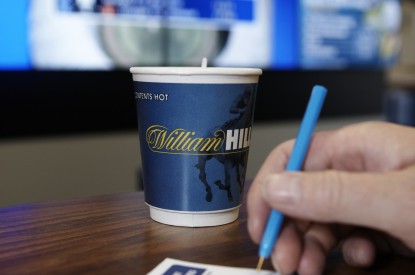 British bookie William Hill saw its revenues decline by one per cent to £1,590.90m in 2015.
The group said that full-year group operating profit of £290m was in line with market expectations in line with market expectations and highlighted that revenue from its online core markets of UK, Italy and Spain was actually up 14 per cent to £116m.
Overall the online side of the business increased by five per cent in amounts wagered, 18 per cent in gaming net revenue and 14 per cent in overall net revenue.
James Henderson, CEO, said: "I am pleased that we have delivered results in line with the market's operating profit expectations for 2015. Online has seen some disruption around the implementation of Project Trafalgar but we are rapidly addressing that. I am optimistic the advantages that Trafalgar gives us will drive growth, particularly as we gain flexibility and increase our ability to differentiate. Retail has delivered another resilient performance, our US business continues to grow strongly and I am encouraged by the performance of the William Hill brand as the growth engine of the Australian business.
"Technology remains a key pillar of our strategy and the leadership changes announced today are about building a team who will deliver product innovations and continue to ensure technology is a major competitive advantage for William Hill. This will allow us to further build on our brand and scale, and be best placed to compete. I would like to thank Andy for his contribution in recent years and to wish him well for the future.
"Looking forward, 2016 is an exciting year for us. With Euro 2016 ahead, we will capitalise on the investments we have made on Trafalgar, the SSBTs and the William Hill brand in Australia to bring customers a differentiated and more personalised William Hill experience."
During the last quarter William Hill launched a new mobile web and iOS app (Project Trafalgar).
"There were some user experience issues immediately after release of the new app, however following a series of updates, wagering growth in the UK is broadly tracking pre-release levels," Mr. Henderson explained. "Trafalgar remains a key step in delivering a better customer experience, faster innovation and data to underpin personalisation, and has already enabled more releases in Q4 than we achieved in the previous nine months. We continue to innovate our gaming as well with the launch of Macau, the industry's first Macau-branded live casino, at the end of November.
In Q4, Retail saw further modest growth in wagering levels and a return to growth in gaming revenues, up two per cent against a two per cent decline in Q3. Gross win margins in the quarter were stronger than in 2014 and slightly ahead of expectations for that period.
"Our prototype self-service betting terminal is now live in a shop for customer testing and we remain on track to begin full roll-out in H1 2016," Mr. Henderson added.
Trading in Australia has been encouraging with overall performance reflecting the refocusing of the business on the core digital customer base and the William Hill brand. During Q4, the William Hill brand saw a strong 46 per cent increase in active customers and a 221 increase increase in new accounts; amounts wagered in local currency saw single-digit growth in December.
"The migration of tomwaterhouse.com customers to the William Hill brand is well underway and will be substantially complete during the William Hill-sponsored Australian Open in January 2016. Through our new Global Trading Platform we are delivering an expanded in-play product range and will have a market-leading tennis offering for the Open," Mr. Henderson said.
Following a review of Online, the group is making some management changes to support its next phase of growth, focused on product innovation, personalisation and user experience improvements. Andrew Lee, Managing Director Online, will be leaving the business at some point in 2016. Crispin Nieboer has been appointed Interim MD of Online, reporting to James Henderson; he is currently responsible for Online's Shoreditch innovation team.
Mr. Henderson said: "A search is underway for a permanent replacement and we will consider both internal and external candidates. In addition, we are pleased to announce Kevin O'Connor is joining William Hill as Group Chief Information Officer."