By
William
- 28 March 2022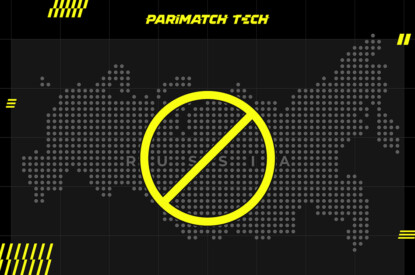 After completing all necessary legal proceedings and technical aspects, the Parimatch franchise has left the Russian market for good.
Ultimately this means that Russia has been unplugged from Parimatch's software and the brand cannot be used on any platforms or in any format.
"The war that Russia started against the Ukrainian people and state made it unacceptable for us to use the brand and tech solutions in Russia. We stopped the support of all processes on operational and technical levels, and we withdrew the Parimatch brand," commented Roman Syrotian, co-CEO at Parimatch Tech.
Russia has been banned from using the Parimatch advertising materials, symbols, colours, global ambassadors, and slogans. This also means that using the Parimatch branding is prohibited for all local ambassadors.
Moreover, Russia has been shut down from all the Parimatch Tech holding's general and exclusive tech solutions. Thus, the Parimatch platform in Russia is not operational. In February, the Supervisory board of Parimatch Tech holding company decided to withdraw the franchise from Russia because of the full-scale military invasion into Ukraine.
The process of brand withdrawal from the market began on March 1. This was preceded by gathering the necessary set of documents and directing it to the Betring LLC, which used the Parimatch trademark to operate under a franchise deal.
"The board's decision to leave the Russian market was implemented on all levels. From here on out, any presence of the Parimatch brand in Russia will be considered as a violation of the intellectual property.
"This is not a rebranding or restyling. This is a complete shutdown from the franchise. We have no ties or connections to any further Betring LLC activities," added Maksym Liashko, co-CEO at Parimatch Tech.