By
Lewis
- 2 November 2020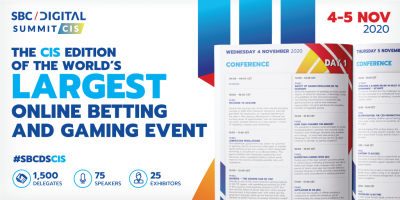 SBC Digital Summit CIS will feature senior executives from Parimatch, adjarabet, Liga Stavok, Fonbet, FavBet, BetBoom, and Betlive. The virtual conference and expo on 4 – 5 November has an agenda focused on the growing markets in the CIS region, Ukraine and Georgia, and a roster of 75 expert speakers ready to share on-the-ground insights and their ideas for the future direction of the industry.
The line-up includes Dmitry Sergeev (CEO, Parimatch CIS), Irakli Asanishvili (Deputy CEO, adjarabet), Yury Krasovsky (CEO, Liga Stavok), Luka Kapanadze (CCO, Betlive), Konstantin Makarov (CEO, BetBoom), Dainis Niedra (COO, Enlabs), Quentin Martin (CEO, Luckbox), and Veiko Krunberg (Managing Director, OlyBet).
Marketing strategies for local markets is one of the central themes of the agenda and there is a strong contingent of operator representatives ready to offer the benefit of their experience to delegates.
Irakli Davarashvili (CMO, adjarabet), Alina Yakirevich (CMO, Fonbet), Maxim Makovetskiy (Head of Affiliates, Parimatch), Aleksey Tserkovnyi (Marketing Director, FavBet), Anton Eshtokin (Deputy Head of Marketing, Marathonbet), and Maka Gorgadze (Head of Marketing, Casino Adjara) are among the industry marketing specialists set to participate.
Davarashvili said: "The SBC event is a great opportunity to unite and discuss all the challenges, share experiences and give some insights in these hard times for the world and for the industry itself."
The speaker roster also provides insights from the perspectives of governments, legal and financial experts, suppliers, affiliates, and sports professionals. Delegates can look forward to learning from Boris Baum (Advisor, Office of the President of Ukraine), Paruyr Shahbazyan (Founder, BR Labs), George Shamugia (CEO, Singular), Nik Rudenko (CEO, 8Lab), Oleksandr Iaroshenko (CEO, Betbazar), Ilya Machavariani (Senior Partner, 4H Agency), Giorgi Tavtavadze (Payment Services Director, Liberty Bank), and Gaizka Mendieta (Former Valencia, Lazio, Barcelona & Spain midfielder).
Baum said: "Having a business background, I know how important it is to have as much information and insight as possible when you are chasing any new opportunity in our fast-paced world. This is especially true for 2020 – a year when everything is changing constantly. In light of this, SBC Digital Summit CIS is a must-attend event for anyone even slightly interested in the latest developments towards the East.
"I am going to speak on a panel that is fully dedicated to the Ukrainian market and will tell you about the Ukrainian Government's efforts to build and nurture this new market on a par with the best examples out there, so it can become pivotal for the European gambling industry."
Rasmus Sojmark, CEO and Founder of SBC, commented: "There is huge excitement in the international betting and gaming industry about the potential of the markets in Ukraine, Uzbekistan, Georgia, Armenia and Russia, but the level of interest is not matched by the amount of information available. SBC Digital Summit CIS will change that.
"In conjunction with our great local partner Sports Media Holding, we've put together a superb line-up of speakers, who between them have unparalleled expertise on all the issues influencing the growth of the industry in the region. So delegates can expect to learn valuable practical information and pick up some fantastic ideas about how to approach the best emerging opportunities."