By
Phil
- 15 July 2020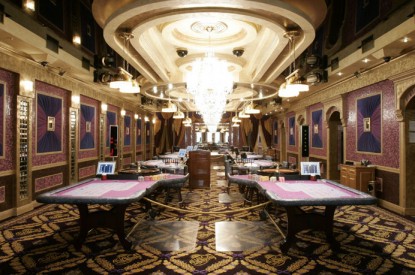 Ukraine's new gambling sector is starting to shape up following approval from the Verkhovna Rada, the country's legislative force, for a bill that will allow land-based casinos in four or five star hotels only and will also see online gambling introduced.
It was passed with a 248 to 95 vote at the second reading and was one of six bills put forward to reshape the country's gambling landscape. President Volodymyr Zelensky will now need to sign in the bill for it to become law.
Legislator, Oleh Marusyak, a member of the President's Servant of the People party and author of the bill, said the new laws would help fund state coffers after more than a decade of gambling operating underground.
Casinos licences for hotels in the capital of Kiev will cost UAH121.6m (€4m) whilst outside the capital they will cost UAH70.8m. There will be a nationwide limit of 40,000 slot machines.
Hotels in Kiev would need to have at least 150 rooms, whilst for other cities this will be at least 100 rooms. Out-of-town complexes, with a total area of at least 10,000 square meters, consisting of two or more buildings with a five-star hotel, and territories inside special gaming zones will also be allowed to host casinos. These zones, of which there will be no more than five, will be developed by the Cabinet of Ministers outside of residential areas.
Slot-only operations will be allowed in 3-star hotels and above with between 50 and 250 machines allowed.
Bookmakers' licence fees will cost UAH70.8m while online gambling licences will cost UAH30.7m ($1.1m). Russian-owned entities will be kept out of the market with the law stipulating that all operators and slot machine suppliers 'must not be controlled by residents of an occupying state and/or the aggressor state in relation to Ukraine.'
There are currently five different bills regarding how gambling will be taxed with observers believing that the most likely outcome will be a five per cent GGR tax on bookmaking, 10 per cent for online gambling and for lotteries and 12.5 per cent for slots.
Ukraine banned most types of gambling in 2009. The government is looking to generate UAH4.5bn (US$166m) from licensing and taxing various gambling businesses this year.
The age limit for gamblers has been increased from 18 in the pre-2019 gambling sector to 21 years old now
Danylo Hetmantsev, Chairman of the Verkhovna Rada Committee on Finance, Tax and Customs Policy, said: "After showing the passport, the gambler enters not the hotel but the gambling establishment at the hotel. At the entrance to this gambling establishment their passport is checked. If the supervisory authority discovers that persons younger than 21 years old plays in the establishment, the fines are applied, or the license is canceled altogether. Everything is very simple."
In terms of timing, international law firm CIS Associate for Dentons, said: "we are a couple of weeks or maybe even one month away for the Ukraine Gambling Law entering into force."
Ukraine company Parimatch Holdings said: "The development of a fair and regulated betting industry is excellent news for Ukraine. It shows the world we are 'open for business'. It will draw international investment into, and help grow, important technology and payments sectors that are the foundation of the betting industry. Through the license fees and tax contributions, it will also generate much-needed revenue for the state budget.
"The Bill includes many best-standard international practices that will form the framework of a transparent and competitive market. We eagerly wait for President Volodymyr Zelenskyi to sign it and deliver on his ambitious pledge to legalise betting to support Ukraine's new economy. After the Bill is finally ratified, we believe there is a requirement to reform the Tax Code of Ukraine to accompany this regulatory framework; ensuring the long-term viability of the industry in Ukraine."