By
William
- 25 February 2022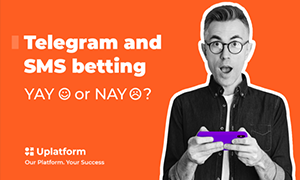 With the advent of online platforms, additional opportunities for sports betting have arisen. It's more diversified now than it's ever been. Betting options like cashing out before an event concludes or betting on the action as it develops give bettors a richer selection of entertaining betting options.
Access to betting services has also evolved too, as we can now have access from anywhere and even place bets on the go through websites or mobile Apps. In addition to these methods, a few others are becoming popular these days and deserve their place in the modern betting mix, especially if you are looking to grow and appeal to a global audience.
The power of SMS
Messaging services have become a key part of how we communicate, with the likes of WhatsApp and Facebook Messenger having a major bearing on our lives. In fact, considering how crucial they are, it is easy to forget about the power of a good old-fashioned SMS message.
Text messaging was a fundamental part of the mobile phone experience for many years and it's a service that we all still have access to, even if it has been superseded by the emergence of other internet-reliant messaging apps. SlickText has compiled some statistics on SMS usage, with a key finding being that five billion people continue to send and receive SMS messages. This apparently equates to around 65 per cent of the global population.
In addition, SMS messages are forecasted to continue being a popular method of communication as the site suggests that it is estimated some six billion people will be sending and receiving text messages by 2025.
SMS Betting
Text messaging, also known as SMS (Short Message Service), has been around since 1992, when the very first message was sent. The technology hasn't changed much since 1992. Even so, as a business tool, SMS is still popular; many organisations and services, including sports betting, have realised that SMS has enhanced their business services and opportunities.
An SMS betting service typically consists of player sending codes to a special number, with software then processing the information and accepting the bet. The services also allow then to undertake a range of other basic operations, such as registering and logging in. Players may also be able to make withdrawals and check bet outcomes with them as well.
Since the internet is such an integral part of life these days, you might wonder why SMS betting is necessary in this day and age of sports betting. It is true that connectivity is now at a new level, with improved broadband connections and the emergence of 5G technology, but SMS betting offers its advantages to regional areas throughout the world that lack sufficient digital accessibility due to expensive, weak, complicated, or insufficient infrastructure.
Simply put, SMS fills the void where access to data is very expensive, or internet connections are unreliable, providing a practical, reliable, and easy-to-use alternative solution. Additionally, SMS offers alternative payment methods to such regions. If you are planning to enter any of these sorts of locations, taking advantage of this solution might be a worthwhile investment.
Telegram Betting
Nonetheless, another messaging solution could provide a similar boost. The Telegram Messenger app has become a big deal on smartphones in recent years. In fact, the App Store listing for the service states that it has more than 500 million active users.
Telegram Messenger is more than just another messaging service; it's also a social network with channels and group chats. Among its most interesting features are bots.
Developed in 2015, Telegram bots are third-party chat apps based on Telegram's API. They are essentially automated Telegram accounts you can add to conversations, groups, or channels. A user sends the bot the command (chosen from a menu of commands) and receives the results.
There is, for instance, a Telegram bot that offers you the latest trending information around the world or news on discounts on airline tickets whenever you need it. And there are bots where individuals can actually bet through. Essentially, Telegram betting makes use of a bot that helps players place a bet via the service.
This means that there are many different betting options available to players using Telegram, so the user experience is not that different from visiting a regular betting website. However, bets are placed via chatbots.
On Uplatform's Telegram solution, chatbot players can select specific sports, certain leagues, and markets. Then, once they are ready and happy with their selection, they can press the button to place their selected bet. With Telegram betting, it's the same across all the channels, with websites or smartphone Apps; the same account, same login, the same wallet, and bonuses. And the same back office and CRM for administrating, analysing and reporting.
Taking the leap into Telegram betting adds another string to your bow and ensures that would-be players have a range of options when it comes to accessing your services. This flexibility and choice mean that individuals can access the service in a way that suits them. Perhaps, most importantly, it may also ensure that they put your service ahead of other brands in the market.
Ultimate accessibility
SMS and Telegram betting may not be the most well-known options for getting involved in the sportsbook scene, but there are only a few providers that have embraced these solutions. Regardless of where their clients operate, Uplatform offers a complete package of powerful tools and solutions, effective and in demand, tailored to serve all markets and regions around the world to ensure the successful performance of their business.
This is part of a shift towards sportsbooks that are designed to offer accessibility so that there is complete compatibility across a range of devices. Offering apps for Android, Windows and iOS, full and light web versions and SMS and Telegram betting is a pivotal part of this.
The modern sports betting world offers a huge amount of choice and this should also be reflected in the options that people have to access such services. With this in mind, it will be fascinating to see how trends around SMS and Telegram betting continue to evolve in the coming years.