By
Phil
- 19 January 2021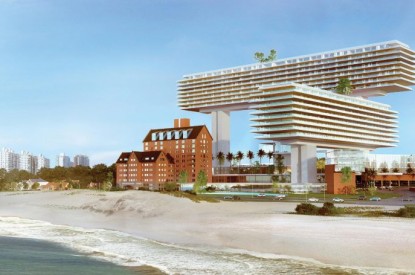 The Cipriani group, who was awarded the tender for a casino project, transforming the San Rafael hotel in the city of Punta del Este, has been forced to change its original blueprint and delay the construction of two of the three proposed buildings.
The mayor of Maldonado, Enrique Antía, recently held a meeting with the investment group behind the Cipriani Ocean Resort and Club Residences Punta del Este project, along with the architects and their partners.
Whilst the level of investment remains the same at US$450m, construction will now be phased with the hotel hosting the casino being built first. The other two buildings will be built once that stage has been completed.
The project, which is being overseen by New York architect Rafael Viñoly, will a new San Rafael Hotel with 70 hotel rooms, 75 private apartments and the casino in its first phase.
It will later include a spa, gym, hair salon, retail, convention centre, theatre, two underground garages, residences and restaurants.
The Mayor said: "Work continues, and there was a risk of losing it because the investment group has seen six or seven of its hotels closed. The previous project, which looked like a rattle, was very expensive to start with. The good news is that they are moving forward, and that they plan to start it this winter."
The investor group must now present the project to the Maldonado Municipality, who will need to evaluate it and send it to the Departmental Board, who will need to approve it.
The San Rafael hotel in Punta del Este, has been closed since 2011, but was acquired by the Cipriani Group for more than US$40m in February 2018 after an agreement was signed by Giuseppe Cipriani.