By
Phil
- 5 December 2013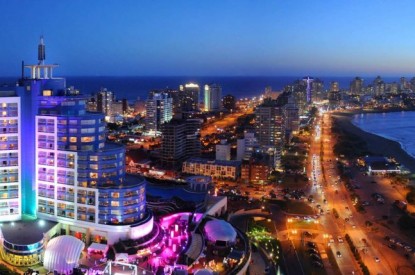 Enjoy S.A. is to invest US$20m renovating Conrad Punta Del Este Resort and Casino in Punta Del Este, as it looks to bring a touch of Las Vegas to Uruguay's South American Riviera.
The new casino, which will be unveiled in summer next year, will feature a technological restaurant bar and a night club with operations going around the clock.
Juan Eduardo García, the new CEO of Conrad Hotel & Casino in Punta del Este, said: "It is a proposal that is very different from the previous one, both from an architectural point of view – which includes a huge terrace overlooking the Mansa – and in relation to the addition of the latest technologies for our gaming room. Tourists are going to find a more elegant, modern and spacious casino."
The Uruguayan resort will also open the Shopping Oh! La Barra, the first Mall in the area, and a 50-room boutique hotel. Enjoy currently operates a chain of eight casinos with 5,718 slot machines and 265 gaming tables.
The inclusion of revenue from Conrad Resort & Casino Punta del Este boosted Enjoy's financial results to record levels during the first half of the year with net income of US$25.3m.
Enjoy took over the operation of the casino by purchasing 45 per cent of Baluma S.A ., the Caesars subsidiary, which owned and operated the Conrad Punta Del Este Resor,t for US$139.5m. Under the agreement Caesars and Enjoy 'cooperate on marketing and player development, increasing each company's distribution capacity and strengthening the value proposition to their customers through the ability to offer greater amenities to customers who consolidate their play with the two companies.' In three to five years' time Enjoy will be given the option to acquire the remaining stake in Baluma S.A.