By
Phil
- 15 February 2018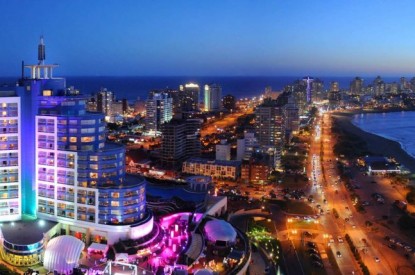 Uruguayans gambled at least $23,197m around US$809m last year. All games, except instant Quiniela had a small increase in sales according to Director of Lotteries and Quinielas (DNLQ), Luis Gama. The figure makes up approximately 1.3 per cent of Uruguay's Gross Domestic Product, according to local daily El País.
Gama said part of the rise in gaming revenue has been due to a streamlining of the products the Lottery has on offer.
"The increase is reasonable," said Gama, "a long time ago we decided not to increase the gaming offer and to concentrate on the ones we are already running, because we are left with the most traditional games and the ones that people are most interested in."
Sales for games run by the DNLQ stood at $13,064,122,147 in 2017 (US$456m), a 6.3 per cent increase compared to 2016. According to El País, Quiniela was the most popular game sales for which stood at around $4,500m (US$ 157m). It was followed by Tómbola, which reported sales of $2,360m (US $82.3m) and Cinco de Oro with $ 2,270m (US$79.2m) in sales. Sales for instant Quiniela reached $870m (US 30.3m), where bets were down slightly according to Gama. The Uruguayan Lottery reported sales of $638m (US$ 22.2m) last year, while the Supermatch sports betting game achieved the most growth in 2017: a total of $1,700m (US $ 59.3m) was bet on the game tripling the record for previous years.
According to Gama, part of the rise in gaming revenue has been due to a government policy which now blocks online gambling sites. As a result, many players have switched to Supermatch. In addition, advertising has led to an improvement in sales as has larger prize pools. Gama said that the same level of growth for lottery products was expected this year.
Meanwhile, the 30 betting rooms managed by the Uruguayan Casino Control Board obtained gross revenues of $6,470m (US$225.8m), which left a profit of US$67m according to the head of the board Javier Chá meaning an increase of 5.2 per cent compared to the amount of $6,145m generated in 2016. The board also reported that it had made a number of significant improvements to its casinos including the reopening of the Casino del Sacramento in Colonia and the Casino La Paloma in Rocha.
Meanwhile, the Enjoy Conrad Hotel in Punta del Este reported revenues of about $2,406m (US$83.9m) up until September 2017. Gambling revenue in the third quarter of 2017 were 49.4 per cent higher compared to the same period in 2016. On the other hand, company Hípica Rioplatense which is licensed to run both Las Piedras and Maroñas racecourses, and operates a number of slots parlours and horse betting shops recorded a net income of $ 1,257m (US $ 43.8m) in the third quarter of 2017, according to its financial statements.