By
Phil
- 8 May 2015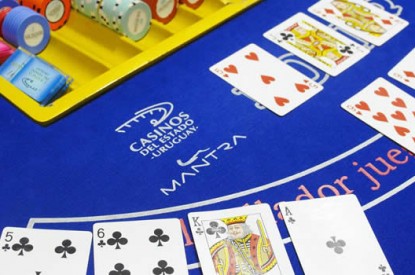 Argentine businessman Jorge Alberto Goitia, along with a number of European operators and Uruguayan investors, have bought the casino at the Mantra Resort Spa and Casino located in Manantiales; a resort in the Maldonado Department of south-eastern Uruguay.
The purchase includes the participation of international hoteliers, with an agreement with the Bagatelle hotel chain which operates in Saint-Tropez and other cities.
The new CEO of the Mantra, Uruguayan Monzeglio Remo, told Argentine daily La Nacion that as of 1 May, the group had taken control of the large tourist complex.
"There has been a necessary restructuring in order to count on staff from the new administration and the union is fully aligned with this direction," said Mr. Remo. "The hotel is running full occupancy this weekend, with many Uruguayans staying and several customers from Brazil," he added.
The new owners of the resort did not reveal any detail regarding the cost although it believed that the Casinos del Litoral group, headed by Jorge Alberto Goitia, will revive the gaming halls in Manantiales and also the Nogaro casino which also has a restaurant and theatre and is part of the new deal. The Nogaro is located in Punta del Este.
The Mantra Resort, Spa & Casino is the Conrad's main competitor in Punta del Este and is located, near the town of Barra de Maldonado. It has a cinema, restaurants, and a stage for outdoor performances as well as other facilities. In addition, the group will now control the Casino Nogaro located on Gorlero Avenue.
In common with many other casinos in Uruguay both the casino in the hotel and the casino Nogaro come under the mixed system. Under the mixed system private investors can set up a casino in a hotel but it is the state that manages and runs the casino for which it receives in return between 35 per cent and 45 per cent a percentage of casino profit. Monzeglio told La Nacion that it is now preparing a plan to re launch the hotel.
In March 2014 head of the Uruguayan Gaming Board Javier Chá announced that the casino at the Mantra Resort Spa and Casino would close on February 28 and would not reopen until December 1. The casino had reported losses of USS$500,000 in 2013 and the gaming board made the decision to turn the casino into a seasonal casino only. The Mantra casino was previously a joint enterprise between Vidaplan SA and the state as was The Nogaró Casino. The negotiations have been taking place over the past months. The agreement was made on Thursday 30 and at midnight the new group took over the hotel.