By
Phil
- 8 December 2020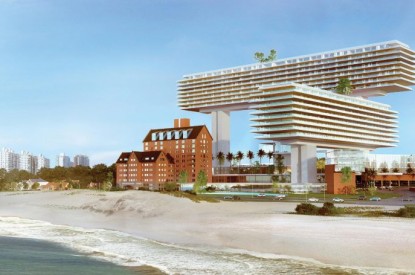 Uruguay's Ministry of Tourism is pushing on with the paperwork for the future Cipriani Ocean Resort and Club Residences Punta del Este with the international award for the gaming concession now being signed.
The Minister of Economy and Finance Azucena Arbeleche and the Minister of Tourism Germán Cardoso signed the casino licence into effect with businessman Giuseppe Cipriani, who confirmed he would start work on the US$450m project in the second half of 2021.
The project, which is being overseen by New York architect Rafael Viñoly, will a new San Rafael Hotel with 70 hotel rooms, 75 private apartments and the casino in its first phase.
It will later include a spa, gym, hair salon, retail, convention centre, theatre, two underground garages, residences and restaurants.
Minister Azucena Arbeleche said: "We continue to make progress in the process of attracting large investments that our country needs."
He was optimistic that, once the pandemic is over, with the help of vaccines, activity in the tourism and services sector will grow again.
The San Rafael hotel in Punta del Este, has been closed since 2011, but was acquired by the Cipriani Group for more than US$40m in February 2018 after an agreement was signed by Giuseppe Cipriani.