By
Phil
- 13 May 2022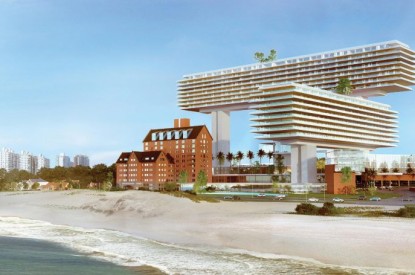 Representatives of the Cipriani Group stated that online gambling rules are unfair and needed to be revised. The Treasury Commission of the Chamber of Senators began work on the proposed changes last week. 
The text enables the running of online gaming by both the State and land based operators.
However, the Cipriani Group, which is moving ahead with the construction of its casino hotel in Punta del Este, stated that a more comprehensive proposal was necessary especially when it came to the way gambling was supervised. Cipriani's legal adviser, Pablo Monsuárez, was quoted by El País as saying that rules do not cover online games of chance in their entirety. Casino games would remain under the purview of the National Directorate of Casinos while other games would come under the control of the National Directorate of Lotteries and Pools betting. While the changes to online gambling regulation were welcome he went onto say that the proposed regulation of online games would ultimately be "lame" and "unfair."
"What it (the law) is going to generate is that there are players or participants in the market that have clear commercial advantages and no large infrastructures to maintain." In addition, he insisted on the need for a comprehensive regulation that covers the entire online gambling system, and grants equal conditions to all participating companies.
Currently online gambling is prohibited by article 244 of Law 19,535 of 2017, although online sports betting is permitted via government monopoly.
In November Uruguay's Executive branch sent a bill to the senate that would permit both state run and privately run casinos to offer online casino games including poker roulette and slots. The bill, signed by President Lacalle Pou, would give the General Directorate of Casinos of the Ministry of Economy and Finance authority to run online casino games, and gives the Executive branch permission to authorize private companies that already operate casinos as well as future license holders permission to offer online casino games. According to reports in local press it was believed that the authorization of online games was a key condition for the investment of the new casino in Punta del Este. In February, the Cipriani group signed the contract for a new hotel in Punta del Este. The emblematic San Rafael hotel in Punta del Este, has been closed since 2011, but was acquired by the Cipriani Group for more than US$40m in February 2018.