By
Phil
- 25 July 2018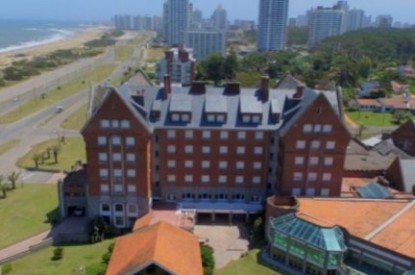 The Departmental Board of Maldonado has given its approval for the architectural plans for the modernisation and restoration of the San Rafael Hotel in Punta del Este.
The new complex, designed by renowned Uruguayan architect Rafael Viñoly on behalf of Grupo Cipriani, will include a private casino. The emblematic San Rafael hotel in Punta del Este, has been closed since 2011, but was acquired by the Cipriani Group for more than US$40 million in February after an agreement was signed by Italian businessman Giuseppe Cipriani.
The project encompasses the construction of two horizontal towers perpendicular to each other with a maximum height of 100 meters in addition to the restoration of the Tudor style building, which was first inaugurated in 1948. The Cipriani Group has already invested significantly in Uruguay having built a US$40 million 5-star casino hotel in the city of La Barra, in December 2003.
The new proposal received the backing of 25 councillors out of 31 and establishes a maximum period of 180 days for the commencement of the works once the construction permit is granted. In addition, councillors approved the purchase of an additional 1,400 square meters of council owned land in the same block for US$1.6m.
The company plans an estimated investment of US$200 million to refurbish the old building. Over time, the old hotel had lost customers, its casino license, and was finally reduced to operating just 15 out of its 135 rooms. The new complex will span 183,360 square meters. The plan also provides for the reconstruction of the old San Rafael hotel with more than 100 rooms. In addition, the resort will have a private casino, three outside pools, three inside pools and ten restaurants. It will also house a theatre for one thousand people, a convention centre as well as a culinary-school and spa. In the construction stage, 70 per cent of the new jobs must be taken by workers based in the department of Maldonado.
While some councillors have opposed the new project, overall it has been welcomed due to the investment and jobs it will bring into the area. Punta del Este has experienced successive record seasons until last summer, but since May has experienced a decline that could be a cause for concern for the summer of 2019.