By
James
- 19 December 2022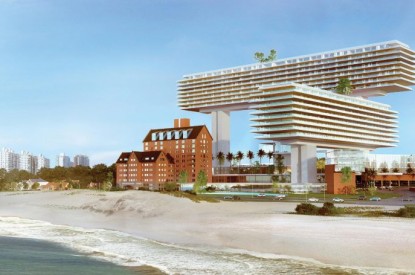 Lawmakers have given the all clear for the reconstruction of the former Hotel Casino San Rafael in Punta del Este. According to local press the decision was made during the early hours of Wednesday, December 14, by the Maldonado Departmental Board which authorised the construction of a 320 meter tall tower which will be the tallest standing tower in Latin America if built.
The representative of The Cipriani group (Fosara SA) Pablo Monsuárez, told the Maldonado Public Works Commission, on December 1, that "everything was ready" to start if it the project was approved. Construction is expected to begin in six months time.
The mayor of Maldonado, Enrique Antía, said that the authorisation was "great news." However opposition members classified the decision as "nonsense" from an urban planning point of view and questioned whether the investment would actually take place.
The authorisation comes after Egyptian investor Naguib Sawiris, an investor for the casino, had withdrawn from the project according to Italian businessman Giuseppe Cipriani.
Cipriani was in Qatar and took part in an online meeting in which he explained the reason for Sawiris's departure. In February, according to local press, Giuseppe Cipriani had introduced the investor as part of the project in a meeting with Enrique Antía.
Despite the announcement the president of the county board, Darwin Correa had announced that the project was still on via his Instagram account:
"We are working in a works committee; we met via Zoom with Giuseppe Cipriani, representative of the investment group that he leads, in relation to the construction of the hotel with casino and real estate development in San Rafael. In his own opinion, in the coming months and once the financial difficulties have been overcome, the work can begin, which will bring progress, well-being and many possibilities to our people," he said.
At the end of the zoom call Mayor Antía declared that the councillors were "except for one or two", confident that the project would "go forward".
However, it was reported that the Italian businessman had warned that if the approval in the departmental legislature continued to drag on, he could also pull out of the project.
Cipriani alleged that delays in the approval of the new project were the reason for Sawiris's decision to withdraw.
"The investor (Sawiris) left because he had been left standing there for too long," Cipriani explained, and warned: "If we wait a little longer, Cipriani will also leave.