By
Phil
- 5 June 2014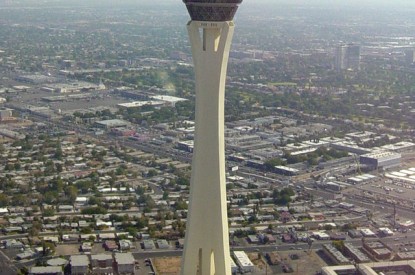 FutureLogic has signed a contract with American Casino Entertainment Properties (ACEP) to be the exclusive supplier of TITO printers for all four of their properties in Nevada.
According to the seven-year agreement, FutureLogic's GEN3 Evolution will be installed on all new slot machines at the Stratosphere Casino Hotel & Tower, Arizona Charlie's Decatur, Arizona Charlie's Boulder, and the Aquarius Casino Resort.
Richard Fitzhugh, ACEP's Corporate VP of Slot Strategy, said: "Following a thorough examination of all options, we are confident with our selection of FutureLogic's GEN3 Evolution printer. In addition to offering the most advanced TITO printer in gaming, we chose FutureLogic for their outstanding track record for innovation and excellent technical support team. Improving productivity and increasing operating cash flow is a key focus for our executive team at ACEP. FutureLogic's senior leadership team along with their innovative printing solutions is a great fit for ACEP. We look forward to a long-term partnership."
Nick Micalizzi, FutureLogic's Vice President Sales and Marketing, North America, said: "We are extremely pleased that ACEP chose our GEN3 Evolution printer to help improve productivity at for all four of their state-of-the art properties. By increasing the printer paper capacity to 450 tickets across the floor, FutureLogic is helping operators like ACEP, reduce paper fill costs and save as much as $300 per game annually. Our goal is to provide casinos with advanced technology backed by outstanding technical service. We are delighted that ACEP has cited their previous experience of FutureLogic's exceptional customer service and look forward to working closely with ACEP in the coming years as they look to take full advantage of the GEN3 Evolution's ticketing capabilities and reduce their operating costs across their slot floor."
Following in the footsteps of the PSA-66ST, GEN2, and GEN2 Universal, the GEN3 Evolution printer is the latest generation of thermal ticket and promotional couponing printer from FutureLogic. Featuring industry's largest standard paper capacity of 450 tickets, a low paper sensor that eliminates paper waste by taking the ticket stack down to the last ticket, and at 8 inches per second, the GEN3 Evolution printer is the fastest printer in gaming, printing and presenting a ticket/coupon in less than one second. Moreover, operators can easily update firmware in a flash, by simply connecting a pre-loaded thumb drive to a printer while it's still in the slot machine, yielding a significantly reduced down time for each and every slot machine on the casino floor.