By
Phil
- 15 May 2015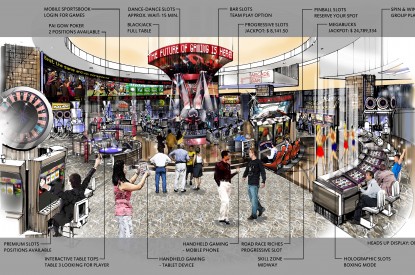 The Association of Gaming Equipment Manufacturers (AGEM) has announced the passage by the Nevada Legislature of Senate Bill 9 that allows for variable-payback percentages in slot machines to enhance the player experience by bringing true skill-based gaming, arcade-game elements, hybrid games and other unique features and technologies to the casino floor for the first time.
Widely expected to be signed by Gov. Brian Sandoval, SB9 is supported by the Nevada Gaming Control Board and the Nevada Resort Association and represents the first time AGEM has specifically initiated legislation in its 15-year history. To start the process, AGEM members, anchored by all of the world's largest slot machine technology companies, were polled in early 2014 and asked to submit ideas on how to boost innovation that would require a change in Nevada law. The variable-payback concept was the overwhelming choice to be forwarded to the Nevada Committee To Conduct An Interim Study Concerning The Impact Of Technology Upon Gaming that met throughout 2014 and ultimately recommended that the AGEM concept advance to the Legislative level.
When the Legislature convened in February, SB9 was initially assigned to the Senate Judiciary Committee, which moved it to the full Senate that passed it by a 20-0 vote. Full Senate approval moved it to the Assembly Judiciary Committee before full Assembly approval yesterday, May 14. Gov. Sandoval, a proponent of convening the Nevada Committee in 2014 as part of his platform to keep Nevada as the world's gaming technology hub, is expected to sign the bill into law within the next two weeks.
The Nevada Gaming Control Board and the Nevada Gaming Commission will now lead the process of writing and promulgating the rules and regulations that will guide this innovative new direction that AGEM believes will inject new life into the slot machine segment of the gaming industry and attract younger players that are accustomed to the arcade experience and different forms of non-gambling games in their daily lives.
"AGEM is especially proud to be the initiator and one of the driving forces behind the milestone event," said Thomas Jingoli, AGEM President and Chief Compliance Officer of Konami Gaming. "We'd like to thank the Gaming Control Board and Chairman A.G. Burnett for supporting this initiative over the past year and we are excited that Nevada will be the first in the world to offer the full extent of this innovative new form of gaming."
Variable-payback percentages would, for example, give all players a base game with an 88 percent payback, but if you're particularly skilled at shooting down enemy planes in the bonus round or outracing your friends in a road rally, you could boost your payback to 98 per cent, with the blended overall payback selected by operators falling somewhere in the middle. For the first time, players will know they can have a material financial impact on the outcome of the game.
"I believe we will look back on the passage of SB9 as a monumental moment for the gaming industry and its overall evolution," said Marcus Prater, AGEM Executive Director. "The slot floor will not transform overnight, but this will allow our industry to capitalise on radical new gaming concepts and technologies and give AGEM members the ability to unleash a new level of creativity for their casino customers."