By
Phil
- 11 September 2014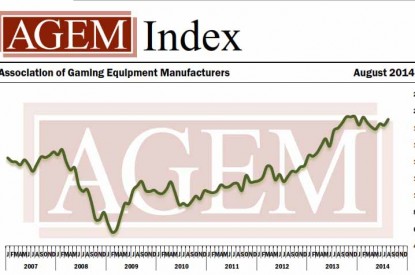 After reporting a 0.9 per cent month-to-month decline in July, the AGEM Index increased in August of 2014.
The composite index ended the month at 190.58, which represents a gain of 6.97 points, up 3.8 per cent when compared to the prior period.
Compared to a year ago, the AGEM Index is up 10.27 points, up 5.7 per cent.
The AGEM Index has witnessed month-to-month gains in three of the past eight months. In August, seven of the 17 global gaming equipment manufacturers reported monthly increases in stock price, with four witnessing substantial gains of more than 15 per cent. Of the 10 manufacturers that reported a decline in stock price, two were down by more than 10 per cent.
The broader stock markets reported similar month-to-month growth in August 2014, with each of the major indices up by more than three percent. The Dow Jones Industrial Average ended the month at 17,098.45, representing an increase of 3.2 percent compared to July 2014. The S&P 500 reported an increase of 3.8 percent, rising to 2,003.37. NASDAQ reported the greatest monthly growth of the three, rising 4.8 percent to 4,580.27.
Selected positive contributors to the August 2014 AGEM Index included the following:
Bally Technologies contributed 6.72 points, due to a 31.8 per cent increase in stock price to $79.29. Scientific Games Corporation reported a stock price of $10.15, up 18.9 per cent and contributed 1.13 points.
With a stock price of $27.81, up 15.3 per cent), Multimedia Games contributed 0.88 points.
On the downside, Ainsworth Game Technology (AGI) contributed negative 0.73 points, due to a 10.9 per cent decline in stock price to AU$3.36. Due to a stock price of AU$5.53, down three per cent, Aristocrat Technologies contributed negative 0.56 points.
In August, a number of gaming equipment manufacturers reported their financial results for the three months ending June 2014, with earnings showing mixed results. Selected company highlights are noted below.
Bally Technologies reported total revenues of $342.2m in the company's fiscal fourth quarter of 2014, up 29.4 percent from the same period in 2013. Electronic gaming machines revenue reported the greatest annual increase, rising 35.2 percent to $119.9m. The company notes that the gain was attributable to higher replacement sales and the sale of 1,262 Equinox units and 343 ETS seats. In addition, the average selling price of new units increased 7.8 per cent to $17,472. Systems revenue reported a 3.8 per cent increase during the quarter, rising to $75.7m due to increased hardware revenue. Meanwhile, gaming operations revenue totalled $104.8m during the quarter, which represents an increase of 1.9 per cent compared to the prior year period. The company notes that the latest performance is attributable to the placement of premium games, record wide-area progressive revenue and the leasing of 2,173 ETS seats.
Galaxy Gaming also reported revenue gains in the three months ending June 2014 compared to the same period of 2013. The company reported total revenue of $2.5m during its fiscal second quarter of 2014, which represents an increase of 26.7 per cent compared to a year ago. The latest increase is due to a 27.4 per cent increase in product leases and royalties, which rose to $2.5m. Meanwhile, product sales and service revenue, which accounts for a small portion of total revenue, declined from $12,350 to $1,175.
Global Cash Access witnessed a decline in revenues during its fiscal second quarter 2014. The company reported revenues of $144.9m during the period, which represents a decline of 2.8 per cent compared to the prior year period. The company notes that the latest decline is due to the loss of a contract with Caesars Entertainment (CZR), which resulted in a revenue loss of $11.3m. Without the loss of the contract, company revenues would have increased 5.3 per cent year-over-year.
Other gaming equipment manufacturers that reported declines in revenues in the three months ended June 2014 include Gaming Partners International (GPIC). Revenues for the company fell 27.8 per cent to $10.2m, due to a decline in the sale of worldwide casino currency products. In addition, Transact Technologies (TACT) reported a 12.7 per cent decline in net sales during its fiscal second quarter of 2014, falling from $15.8m to $13.8m. Notably, casino and gaming revenue fell 16.4 per cent to $6.1m as casino printer sales declined.