By
Phil
- 12 April 2016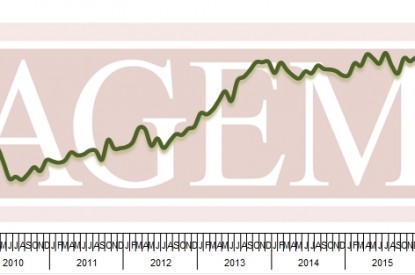 The AGEM Index posted a sharp increase in March 2016 after gaining 8.54 points in February 2016.
The composite index stood at 224.35 at the close of the month, which represents an increase of 27.35 points, or 13.9 percent, when compared to February 2016. The AGEM Index reported a year-over-year increase for the sixth consecutive month, rising 34.07 points, or 17.9 percent, when compared to March 2015.
During the latest period, 10 of the 14 global gaming equipment manufacturers reported month-to-month gains in stock price, with six up by more than 10 per cent. Of the two manufacturers reporting declines in stock price during the month, only one was down by more than 10 percent. The remaining two manufacturers reported flat performances month-to-month.
The broader stock markets experienced a strong rally in March 2016 as well. The Dow Jones Industrial Average reported a month-to-month increase of 7.1 percent, rising to 17,685.09. Meanwhile, NASDAQ increased 6.8 percent to 4,869.85, while the S&P 500 rose 6.6 percent to 2,059.74 during the month.
Konami surged to ¥3,330.00, up 21.6 per cent and contributed 9.69 points. With a stock price of $18.25, up 23.5 per cent, International Game Technology contributed 8.99 points.
Aristocrat Technologies contributed 3.26 points, due to a three per cent increase in stock price to AU$10.30.
With a stock price of $2.29, down 22.1 per cent, Everi Holdings contributed negative 0.35 points.
Agilysys contributed negative 0.06 points, due to a 2.3 per cent decline in stock price to $10.21.
During the month, a number of industry manufacturers released financial results for the period ending December 31, 2015. Selected company highlights below suggest mixed results for key players in the industry.
On a pro forma, constant currency basis, International Game Technology PLC (IGT) reported total revenue of $5.1bn in calendar year 2015, which represents a decline of four per cent compared to 2014. In the fourth quarter of 2015, IGT reported revenues of $1.4bn, up five per cent over the same quarter of the prior year, due to strong gaming product sales, a stabilizing global casino installed base and lottery growth. The company shipped 11,562 machines in the fourth quarter of 2015, which was up 21.3 per cent from the prior year, due to a 94.4 per cent gain in new and expansion units. However, the total installed based declined 6.1 percent year-over-year, falling to 58,350, partially due to a 7.9 per cent decline in the casino installed base.
Everi Holdings reported fourth quarter 2015 revenues of $204.4m, up 34.4 per cent over the same period of the prior year. Of that revenue, $50.5m came from Everi's games segment, which reported a 5.2 per cent increase year on year. Everi's payments segment increased revenues by approximately 6.4 percent, rising to $153.9m during the latest period. One major contributor to this growth was a 13-percent increase in ATM revenue to $77m as a result of higher transaction volume due to the acquisition of ATM portfolios in the third and fourth quarter of 2015.
Everi is now the first company in the casino industry to offer an EMV (chip-based) solution for signature-based transactions performed on ATM devices or fully integrated kiosks. All of the company's financial transaction devices, platforms and systems are now fully end-to-end EMV-compliant.
Galaxy Gaming reported fourth quarter 2015 revenue of $2.9m, which represents a gain of 13 per cent over the same quarter one year ago. The company reported total revenue of $11m for calendar year 2015, which represents an increase of 11 per cent year on year. Galaxy Gaming's revenue increases were primarily attributed to the additional placement of premium games, which command higher pricing points, as well as the company's expansion into new territories.
TransAct Technologies reported net sales of $12.1m in the fourth quarter of 2015, which is a 1.6 per cent decrease from the fourth quarter of 2014. During the period, casino and gaming sales declined 9.7 per cent to $4.5m, while lottery sales fell 56.7 percent to $701,000. Despite declines in the latest quarter, net sales for 2015 reported an increase of 12.4 per cent, coming in at $59.7m for the year. Annual gains were partially attributable to lottery sales nearly doubling in 2015 to $9.5m. However, casino and gaming sales were down for the year, falling 4.3 per cent to $21.8m.