By
Phil
- 1 September 2014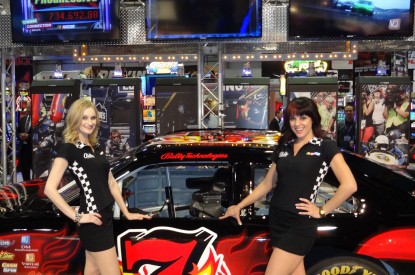 Bally Technologies has announced record annual and quarterly revenue of $1.2bn and $342m, respectively, and Adjusted EPS of $4.32 for the year ended June 30, 2014 and $1.20 for the three months ended June 30, 2014.
Adjusted EPS for the year and three months ended June 30, 2014 includes a $0.11 and $0.01 per share loss, respectively, from unfavourable foreign currency movements. Diluted earnings per share were $2.52 and $0.31 for the year and three months ended June 30, 2014, respectively.
Richard Haddrill, the Company's Chief Executive Officer, said: "Fiscal 2014 highlights our commitment to our partners and customers in delivering world-class player experiences through innovative products and services. Strong demand for our newest cabinet, the Pro Wave, helped grow domestic new unit sales by 18 per cent over the previous quarter. With SHFL in the mix, we grew our international new unit sales by 25 percent further driving our global presence. We continued to deliver new and exciting titles such as Titanic that drove our WAP revenue to record levels. Our Systems technology continues to present a compelling value proposition to our customers as evidenced by another year of record revenue. On the interactive side, we acquired Dragonplay on July 1, 2014, a leading online social casino company, further strengthening our presence in the fast-growing social and mobile gaming platform."
Total revenue increased 29 per cent to a quarterly record $342m as compared with $264m last year.
Adjusted EBITDA increased 39 per cent to a quarterly record $122m as compared with $88m last year.
Revenues from Electronic Gaming Machines increased 35 per cent to $120m as compared with $89m last year, driven by higher replacement sales, and the sale of 1,262 Equinox units and 343 ETS seats.
ASP of new electronic gaming devices increased eight per cent to $17,472 per unit from $16,224 last year, primarily as a result of geographic mix and sales of the new Pro Wave cabinet, which carry higher ASPs.
New-unit sales to international customers were 36 per cent of total new unit shipments compared to 24 percent in the prior year period.
Gross margin increased to 52 per cent from 50 per cent last year, primarily due to regional mix particularly towards the Australian and Asian markets.
Revenues from gaming operations increased to $105m as compared with $103m last year, driven by continued placement of premium games, record wide-area progressive (WAP) revenue, and the inclusion of 2,173 leased ETS seats, partially offset by decreases in participation revenue during the same period.
Gross margin decreased to 59 per cent from 69 per cent last year, primarily due to higher jackpot expenses and $7m of restructuring and acquisition-related costs. After adjusting for these costs, gross margin was 65 per cent.
In terms of systems, revenues increased four per cent to $76m as compared with $73m last year, driven primarily by hardware revenue.
Revenues from Table Products were $42m, with Utility products revenue of $27m and PTG revenue of $15m, and are entirely due to the acquisition of SHFL.