By
Phil
- 25 February 2022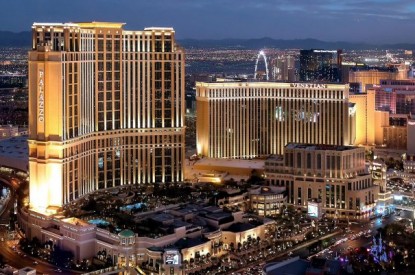 The Venetian Las Vegas and The Venetian Expo announced that funds managed by affiliates of Apollo have completed their acquisition of the operations of The Venetian Resort from Las Vegas Sands Corp. The Venetian Resort, which offers one of the world's most elevated resort experiences, is now a private company backed by the Apollo Funds.
The Venetian Resort, one of the most iconic properties on the Las Vegas Strip, boasts three all-suite hotel towers, luxurious dining, two casino floors, entertainment, nightlife, and retail offerings, in addition to more than 2.25 million square feet of meeting space. The unique combination of hospitality, entertainment and meeting space creates one of the most dynamic footprints on the Las Vegas Strip.
George Markantonis, chief executive officer of The Venetian Resort, and the current executive leadership team will continue to lead operations of the integrated resort going forward.
"As a standalone company with the tremendous institutional knowledge and capabilities of our management team and broader workforce, coupled with the strategic partnership of Apollo, we have an exciting opportunity to build on our past successes while capturing future opportunities," said Markantonis. "We're very well positioned across all Las Vegas categories – hospitality, meetings and events, gaming, and entertainment – and believe we are well positioned for long-term growth."
The Venetian Resort leadership team is committed to building upon the innovative and entrepreneurial legacy of the resort's 23-year history and its Team Member-focused approach.
"Our Team Members are the spirit of the experience our guests have come to know and love," said Markantonis. "It's important to continue to provide the exceptional benefits our Team Members have always received and next week we will be rolling out a new program that will continue our trailblazing efforts for Team Member benefits in the Las Vegas market."
The team at Apollo is also committed to supporting management in maintaining the growth, integrity, and innovative guest experience for which the resort is known.
"We couldn't be more excited for the future of The Venetian Resort Las Vegas and The Venetian Expo," said David Sambur, Apollo Partner and Co-Head Private Equity. "With restrictions lifting and travel indicators all trending higher, we believe the future for this property and the entire Las Vegas consumer and business tourism market is brighter than ever."
Sambur emphasized that a key to a successful transition is maintaining the workplace integrity employees have come to expect with The Venetian Resort.
"The more than 8,000 team members that deliver unparalleled guest experiences every day are most crucial to this transition and the ongoing success of the property," said Sambur. "Our commitment is to continue to support the best workplace environment in the industry."