By
Phil
- 3 March 2021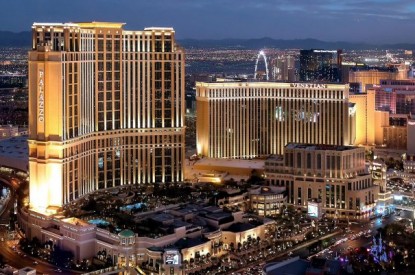 Caesars Entertainment and Apollo Global Management are partnering to buy Las Vegas Sands' entire Las Vegas real property portfolio and its gaming operations, including The Venetian Resort Las Vegas and the Sands Expo and Convention Center for $6.25bn.
Caesars' offshoot VICI Properties real estate and real estate-related assets of The Venetian for approximately $4bn in cash. Apollo Global Management will buy subsidiaries that hold the operating assets and liabilities of the Las Vegas business for approximately $1.05bn in cash, subject to certain post-closing adjustments, and $1.2bn in seller financing in the form of a term loan credit and security agreement.
For investment manager Apollo, the deal is the latest in a long list of gaming-related investment, making it an ever stronger name in the sector. Apollo is in the process of buying Canadian casino group Great Canadian Gaming Corp. and has already taken a huge investment in Sazka, who runs lottery businesses in the Czech Republic, Greece, Cyprus, Austria and Italy, as well as owning Casinos Austria and a 40 per cent share in Greek operator OPAP. It has bought IGT's Italian B2C gaming machine, sports betting, and digital gaming businesses. Apollo also funds investments in PlayAGS, Gala Coral Group, Aliante Casino and Hotel and Bally's Corporation.
Apollo Partner Alex van Hoek said, "The Venetian is America's premier integrated resort, with an unrivaled set of amenities to serve guests across hospitality, meeting events, gaming, and entertainment – categories that we believe are well positioned for strong recovery and long-term growth. The team at Las Vegas Sands, under the leadership and vision of Sheldon Adelson, built an irreplaceable asset that is renowned for its quality, scale and integrated offerings, and we see significant opportunity to invest in and accelerate its growth. This investment also underscores our conviction in a strong recovery for Las Vegas as vaccines usher in a reopening of leisure and travel in the United States and across the world."
"The Venetian has one of the best teams in the industry, focused on delivering world-class customer service and experiences. We are honored and excited to support this talented and dedicated team and build upon the strong foundation set by Mr. Adelson and Las Vegas Sands," added van Hoek.
John Payne, President and Chief Operating Officer of VICI Properties, said, "The Venetian is one of the most coveted properties in Las Vegas and a premier destination for gaming, business and leisure alike. We are thrilled to add The Venetian to our roster of best-in-class assets and believe the property is positioned to benefit from a rebound in Las Vegas under Apollo's leadership. We look forward to what we expect will be a mutually beneficial and productive relationship with Apollo."
Ed Pitoniak, Chief Executive Officer of VICI Properties, added: "In envisioning and building the Venetian Resort, Sheldon Adelson stands among the great American place-makers of the last 100 years. There are few assets in American commercial real estate that deserve to be called monumental, but the Venetian Resort is truly monumental in both its spatial grandeur and in its economics. Upon closing of the transaction, VICI will be honored to help steward the legacy of what Mr. Adelson and the Las Vegas Sands team, led by Rob Goldstein and Patrick Dumont, have built."
John Payne, President and Chief Operating Officer of VICI Properties, said: "We are absolutely thrilled to enhance our portfolio of market-leading experiential assets with the iconic Venetian Resort complex. We have long admired the incomparable size, scale and quality of the Venetian Resort and are proud to opportunistically acquire the asset at an attractive, accretive cap rate for shareholders. Additionally, we are confident Apollo's vision will greatly benefit the property's operations for years to come."
Sands executives said that while selling The Venetian, the property that helped establish Sheldon Adelson and his company at the top of the gaming industry, will be bittersweet, the opportunities for the company to pursue new growth prospects are robust.
"The Venetian changed the face of future casino development and cemented Sheldon Adelson's legacy as one of the most influential people in the history of the gaming and hospitality industry. As we announce the sale of The Venetian Resort, we pay tribute to Mr. Adelson's legacy while starting a new chapter in this company's history," said Las Vegas Sands Chairman and Chief Executive Officer Robert Goldstein. "This company is focused on growth, and we see meaningful opportunities on a variety of fronts. Asia remains the backbone of this company and our developments in Macao and Singapore are the center of our attention. We will always look for ways to reinvest in our properties and those communities. There are also potential development opportunities domestically, where we believe significant capital investment will provide a substantial benefit to those jurisdictions while also producing very strong returns for the company."
"Our long-held strategy of reinvesting in our Asian operations and returning capital to our shareholders will be enhanced through this transaction. Additionally, as our industry continues to evolve, particularly as it relates to the digital marketplace, we are committed to exploring those possibilities," said Patrick Dumont, the company's president and chief operating officer.
Mr. Dumont added: "Our company's history will always be traced to the opening of The Venetian in Las Vegas. Today, Sands is the most valuable gaming company in the world with an established track record of success in developing and operating large-scale integrated resorts in Asia and the United States. The company's financial strength, which grows stronger as a result of this deal, gives us the flexibility to pursue a multitude of new development opportunities,"
Mr. Goldstein, who once served as the president and chief operating officer of The Venetian and the connected Palazzo Resort, said it would be difficult saying goodbye to many long-time colleagues, but he was confident the property will continue its great success. He also said Apollo and VICI were the right companies to lead the property into the future and that additions like the MSG Sphere, a live performance venue being developed by Madison Square Garden, will create new growth opportunities for the property.
"The property is a best-in-class asset with a talented team of people operating it. I am confident Las Vegas will soon return to a more normal operating environment and The Venetian's hard-working and dedicated team members will continue delivering a world-class experience to guests eager to enjoy it. I know I will be rooting for them," he said.