By
Phil
- 11 October 2019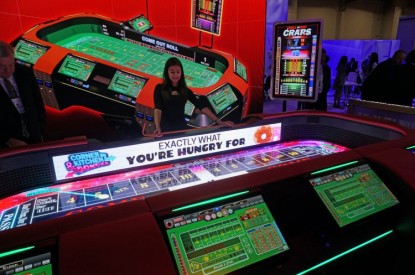 Aruze Gaming will be demonstrating Roll To Win Craps after rolling the product out for its world premiere at Harrah's Cherokee Casino Resort in North Carolina.
Roll To Win Craps is a ground-breaking semi-autonomous craps game which allows players to shoot real dice across a large LED playing field screen. Utilising the same footprint as a traditional craps table, the bright LED panels on Roll To Win Craps; display amazing graphics and eye-catching animations. Individual player stations accept cash and provide tickets, so no physical chips are needed for play. Players are able to place bets privately on their screen, and then see their virtual chips displayed on the main playing field.
"Throughout the development process for Roll To Win Craps;, Caesars provided invaluable feedback to help us create a product that was perfectly suited to both player and operator needs," said Brandon Knowles, Executive Director of Table Games at Aruze. "Because of their involvement and continued support of this product, we are really thrilled to have the first install at one of their most beautiful properties."
Because of the unique nature of Roll To Win Craps, where bets are always tracked along with who the shooter is, Aruze is available to offer a Hot Shooter side bet. This side bet makes the best part of a craps game, a hot streak, even more exciting.
Aruze is expecting GLI approval shortly with further installs due to be announced in New Jersey and Louisiana.
Also on the ETG side, Aruze will be showing Lucky Roulette, blending a physical wheel and ball with projection mapping that allows additional side bets to be created. The game has been launched with Seminole Tribe in Florida at Hard Rock Casino in Hollywood and Coconut Creek Casino and will soon be played at Hard Rock Tampa.
Aruze Gaming will also be debuting two new cabinets at G2E Las Vegas with the Muso Triple 27 and Muso Curve making their debuts.
It is adding the Muso Hybrid Triple 27, Muso Hybrid Curve and Muso Limited to its Muso line-up. These will be added to the Muso Triple 27 which is a dual screen video and the Muso Curve, our portrait 43" portrait single screen video.