By
Phil
- 11 May 2015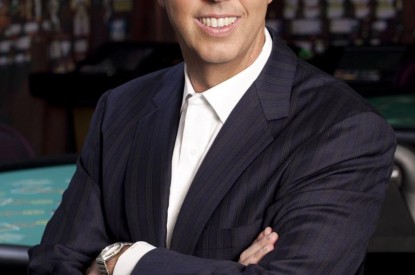 Scientific Games, described by CEO Gavin Isaacs as the 'complete package' has seen its revenue almost double in the first quarter due to buying Bally Technologies for $5.1bn.
Revenue increased by $262.4m in the first quarter, due to the inclusion of $286.7m from Bally, which included $142.6m in service revenue and $144.1m in product sales.
However, Scientific saw its net loss also nearly double, primarily due to costs associated with the Bally transaction and relocating its headquarters to Las Vegas.
Scientific Games lost $86.4m despite revenue growing to $658.7m, compared to $388.1m one year earlier.
"In our first full quarter following our merger with Bally, we made significant progress in our strategies to integrate Bally operations and unify our organization," said Gavin Isaacs, President and Chief Executive Officer. "Our ability to offer the most extensive portfolio of products, systems and services to our gaming, lottery and interactive customers offers us a unique opportunity to empower our customers' success. The recent launch of the WMS S32 gaming cabinet, the new high-earning Flintstones and Powerball participation games and the introduction of a Bally Quick Hits slot game on the Dragonplay Slots online casino app – our first Bally social game launch – are just a few examples that highlight the breadth and innovation of our offerings. The premiere last month of the exciting Monopoly Millionaires' Club TV game show and multi-state launch of the Monopoly Millionaires' Club instant lottery game also demonstrate our organization-wide commitment to develop innovative products to help drive growth for our lottery customers."
Mr. Isaacs added: "Our focus on developing new player entertainment experiences that engage players and drive growth for our customers is equally matched by our focus on realizing expected integration cost savings and increasing our free cash flow. The process of integrating Bally and Scientific Games is ahead of schedule. Having already implemented actions to achieve approximately$90m in Bally-related annualized savings through March 31, 2015, we expect to achieve our goal to implement initiatives to generate approximately 80 per cent of the anticipated $235m of annual cost savings and another $30m of WMS-related annual cost savings by the end of 2015.
"We are firmly focused on driving revenue opportunities enabled by leveraging the synergies created by our combined strengths in technology and product development. Our capital allocation strategy prioritizes the use of free cash flow for debt reduction, while supporting appropriate investments in innovation and high-return growth projects as we seek to create great entertainment experiences for our customers and players. We expect our debt reduction to accelerate in the second half of 2015 and beyond."
The inclusion of 15,073 Bally WAP, premium and daily-fee units to the ending installed base was partially offset by a 667 unit decrease in the legacy Gaming installed base. The total period-end installed base decreased 477 units on a quarterly sequential basis.
Gaming machine sales revenue increased $60.1, reflecting $84m from Bally, partially offset by $23.9 million in lower legacy Gaming product sales. New gaming machine sales revenue reflected shipment of 6,732 units, including 4,380 new Bally and WMS units to US and Canadian customers and 2,352 units to international customers. Total new unit shipments in the 2015 first quarter were lower than the combined new unit shipments of the legacy Gaming business and Bally during the prior-year quarter, primarily reflecting 997 fewer unit sales to the Illinois VLT market and 608 fewer unit sales for new casino openings; however, the Company believes its combined ship share, on a like-for-like basis, improved compared to the prior-year period. Other product sales revenue increased $7.4m, inclusive of $10.9m from Bally, partially offset by $3.5m lower legacy Gaming sales.
Shipments to US and Canadian customers in the 2015 first quarter reflected 147 Illinois VLT units, no unit sales related to new casino openings and 4,233 replacement units for casino operators. Shipments by WMS and Bally to U.S. and Canadian customers in the prior-year period included 1,144 Illinois VLTs units, 608 units for new casino openings and 3,743 replacement units. The increase in average sales price per new unit reflected improved pricing of legacy Gaming machines, as well as the favourable impact from Bally units, particularly sales of premium priced Bally Pro Wave gaming machines.
Gaming systems revenue increased $63.9m to $67m and table products revenue increased to $38.1m, due to the inclusion of Bally.
Lottery revenue declined $7.9m, inclusive of an aggregate $5.7m unfavorable foreign currency translation impact, reflecting $6.1m in lower product sales revenue primarily from international customers and $4.5m in lower services revenue, while benefiting from $2.7m in higher instant games revenue.
Interactive revenue increased $16.1m, reflecting $7m of revenue from Bally, as well as an increase in real money gaming revenue and increased DAU for the Jackpot Party and Gold Fish social casino apps, partially offset by a decrease in ARPDAU.
"Significant progress has already been achieved in implementing our comprehensive integration initiatives," said Scott Schweinfurth, Executive Vice President and Chief Financial Officer. "Simultaneously, as part of this effort, our game development and our customer sales and service support teams are looking to deploy best practices from across our businesses to enhance our ability to support our customers and their operations."
Mr. Schweinfurth continued: "Through March 31, 2015, we have implemented actions to achieve approximately $90m in annualised cost savings related to the Bally integration, or approximately 50 percent of our expected cost savings to be implemented by December 31, 2015. These savings have been achieved largely through eliminating duplicative positions in the Gaming and Interactive businesses, as well as in our corporate functions, and eliminating duplicative overhead costs. We remain on schedule with other major integration initiatives, including the consolidation and ongoing transition of our domestic gaming machine production toNevada and the planned closure of the WMS production facility in Waukegan, Illinois. We now expect to begin to shut-down the Waukegan facility in the second quarter and fully close the facility in the third quarter. We are ahead of plan in consolidating nearly 40 additional facilities around the globe by the end of 2015, with the savings representing an important element of our anticipated synergies."
Mr. Isaacs added: "Our focus is firmly on growing our business. That is ultimately the key to our long-term success. Importantly, within each of our businesses, we see growth opportunities created by the integration and the convergence of our strengths in gaming and lottery research and technology, strengths that we expect will organically build our long-term business. Our ability to offer the most comprehensive array of products and services coupled with our strategies to develop innovative and differentiated products is being well received by our customers. Customers understand what our merger brings, the ability to provide one-stop shopping for the products and services and an ability to leverage size and scale to fund R&D spending to meet our customers' needs for today and of course for tomorrow. No one has the breadth and depth of brands, products and services like we do, supported by the scale needed to invest in the innovation and development to offer the customers the best value proposition.
"I think some of our recent announcements clearly illustrates why we are quickly becoming the supplier of choice. For example, with one customer, we are providing not just the end-to-end gaming system, but a total end-to-end solution to the casino comprised of the gaming and player loyalty systems, new Bally and WMS-branded gaming machines, top earning participation games, table products, electronic tables, shufflers and all other utility products," he explained. "We are also partnering with them to build a full iGaming environment that will enable their players to be engaged not only during their stay, but also before arriving and after leaving the casinos. Our teams collaborated across the breadth of Scientific Games to work with our customer to bring a new level of engagement and value to our customer bringing the best-of-breed across the full range of its need."
The group's lottery business saw the launch of the first six episodes of the MONOPOLY MILLIONAIRES CLUB TV game during the quarter.
"It is off to an exciting start, including a $1 million winner generating excitement in both the lottery and game show industries," Mr. Isaacs explained. "These shows air during the weekend on local TV station with a potential audience that reaches approximately 98 per cent of the US households with lottery access. While the original draw base games did not meet initial sale expectations, our lottery team continued to focus on innovative ways to continue the TV game show. With the launch of a multi-state instant lottery ticket version of our MONOPOLY MILLIONAIRES CLUB, we have now produced 12 game show episodes with the expectation to produce nine more episodes. Each will feature contestants who have won an expense-paid trip to Las Vegas to be part of the TV game show audience by registering their instant game tickets online for a second chance drawing, bringing new incremental growth to support our lottery customers."