By
Phil
- 14 July 2021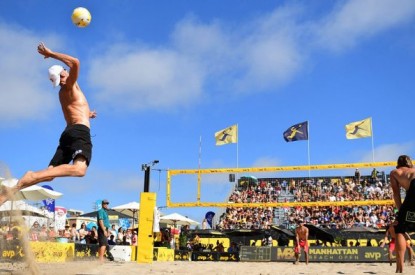 Bally's Corporation has acquired the Association of Volleyball Professionals (AVP), the premier professional beach volleyball organization and host of the longest-running domestic beach volleyball tour in the United States.
The acquisition represents the latest step in Bally's ongoing omni-channel growth and diversification strategy, providing a significant opportunity for the Company to gamify and incorporate interactive content into beach volleyball, which, in turn, will drive traffic to Bally's platforms and promote customer acquisition.
Under the terms of the transaction, Bally's acquired all of AVP's assets, including trademarks, AVP America promoter agreements and associated recurring membership revenue, digital photo and video assets, and all proprietary tournament and league management software. Bally's plans to leverage AVP's distribution channels, as well as the Sinclair-owned "Bally Sports" Regional Sports Networks (RSNs), to increase consumer engagement with, and awareness of, the league.
Adi Dhandhania, SVP Strategy and Interactive, said, "The AVP is an attractive asset that complements our rapidly expanding U.S. sports betting vision. Donald and the entire AVP team have done a tremendous job developing the league and transforming it into what it is today, and we look forward to exploring creative ways to amplify and gamify such a dynamic and high-growth sport, providing beach volleyball fans across the nation with unique and interactive content."
Donald Sun, former owner and CEO of AVP, said, "Forming a new relationship with a trusted, forward-thinking partner like Bally's offers the opportunity to develop a strategic roadmap that will grow the sport, expand its footprint and provide new resources to better elevate the game and its athletes. I look forward to being an integral part of the transition, focusing on the best interests of all AVP athletes, fans, staff and partners."
The AVP will kick off its 2021 AVP Pro Tour in Atlanta, Georgia, on August 13-15. The AVP is planning to resume a full season beginning in 2022.