By
William
- 10 December 2019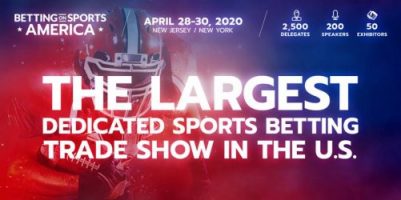 Betting on Sports America returns to New Jersey's Meadowlands Exposition Center on April 28-30th 2020 and will be significantly larger than its inaugural event in 2019.
SBC's first major event in North America in April 2019 saw BOSA become the largest dedicated sports betting trade show in the U.S. to date, with more than 1,500 delegates gathering to discuss the post-PASPA repeal landscape and learn from major European operators.
Among the highlights of the inaugural edition – of which, 97.7% of attendees said they would recommend to colleagues – was a roster of 175 industry leading speakers delivering content across six conference tracks, together with keynote addresses from New Jersey Governor Phil Murphy and NFL legend Morten Andersen.
Delegates also enjoyed exclusive networking events at upscale venues, including Jay-Z's 40/40 Club in New York, and a ceremony that saw Chris Christie (former Governor of New Jersey), Art Manteris (VP Race & Sports Operations of Station Casinos) and Dennis Drazin (CEO of Monmouth Park) inducted into the Sports Betting Hall of Fame for their contributions to the industry.
Sue Schneider, VP, Growth & Strategy, Americas for SBC, commented: "Ever since BOSA 2019 in April, everyone in the industry has been raving about their experiences at our event. The bar has been set high but we are eager to make the second annual event bigger and better."
All the elements that made the inaugural BOSA such a success are back in bigger and better form for 2020, along with some valuable new additions to the agenda. Attendees can look forward to more than 200 expert speakers across eight conference tracks, sharing their expertise on all the key issues and opportunities in the 19 states where sports betting is now legal, and examining the future prospects in other states.
In addition to sessions on regulation, investment, the relationship between major sports and betting operators, technology, operations and marketing, the content for 2020 will also focus on lotteries, racing and tribal gaming, ensuring there will be invaluable insights for all stakeholders.
Rasmus Sojmark, CEO of SBC, added: "Planning for BOSA 2020 started back in May, but we are now in full swing and busy ensuring that the 2020 edition far exceeds everyone's expectations. We have gotten so much feedback from industry stakeholders and are going to build on the foundation from this year, add in some high-quality new elements influenced by the growing market, and take it to new heights."
The 2,500 industry professionals set to converge on Meadowlands for the event can also take in the latest innovations from leading international suppliers at the 61,000 sq ft expo and enjoy more of SBC's renowned evening networking parties. They include a night at a stylish Manhattan venue and the induction ceremony for the soon to be announced star-studded Sports Betting Hall of Fame class of 2020.
Those evening events are covered by Betting on Sports America's 'all-inclusive' pricing policy, which means that your pass gives you access to all eight conference tracks, the expo and networking parties, along with complimentary food and drink.