By
Lewis
- 14 December 2020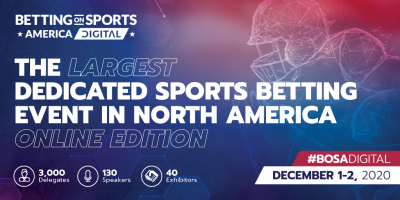 A survey of attendees from 2020's Betting on Sports America – Digital (BOSA-Digital) conference and expo responded favourably to the content delivered during the eight-track conference and accompanying programme of networking roundtables.
BOSA-Digital brought together major operators' senior executive teams, regulators, affiliates, and newcomers to the U.S. regulated sports betting industry for two days of discussions about the biggest opportunities and challenges in the sector.
The virtual event organised by SBC attracted an audience that surpassed the predicted 2,500 delegates. The nearly 200-strong speaker line-up featured more than 20 CEOs, including those from William Hill U.S., Circa Sports, and MGM Resorts International.
The breadth of subject matter and quality of speakers in the panels was often cited by attendees as a highlight of BOSA-Digital. "The platform was very easy to use and seemed to have great connectivity. The panels were also very good, with lots of good topics and good presenters," said one.
One survey respondent stated "The people attending the panel discussions did a great job, well prepared and enthusiastic. Also, the platform worked very well. Easy to use and all the technical aspects seemed to work out without glitches, which I don't take for granted".
SBC's Director of Marketing and Communications for North America, Kevin Smith, said: "It's always great to get validation that what we are doing is what our delegates want, which is providing content and speakers that address the issues facing the industry head-on. The survey also gave us some great suggestions and ideas on how we can make this better in 2021."
Nearly 70 per cent of survey respondents found SBC's digital event format either extremely useful (33 per cent) or very useful (35 per cent). The ability to connect with others in the industry, through the BOSA-Digital event platform, was identified as a key factor in their success.
The range of topics being covered as part of the conference agenda was a big contributing factor to the events success, according to the survey. A number of sessions that were mentioned as highlights of the conference agenda included discussions around the relationship between broadcasters and the sports betting industry, technology, problem gambling, and regulation.
Another attendee said: "Incredibly well organised and diverse enough in the subject matter that I was easily able to find several sessions of interest."
Betting on Sports America will build return as a physical conference and trade show at Meadowlands Exposition Center, New Jersey, on June 8-10 2021.
That event will deliver a line-up of 250 speakers discussing the issues influencing the development of the industry in the U.S. and Canada, a 50-booth expo showcasing the latest innovations from suppliers, and a programme of evening networking opportunities in upscale venues.