By
Phil
- 2 August 2022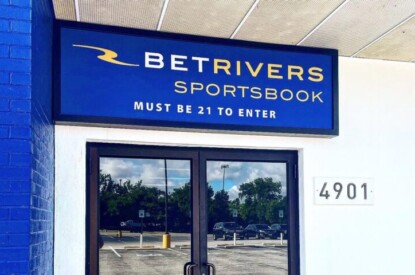 Bingo World and Rush Street Interactive, a leading online casino and sports betting company, has announced the launch of in-person sports betting at the BetRivers Sportsbook at Bingo World at 12 p.m. Eastern Time.
Eligible bettors, 21 and over, will be able to place a wide array of bets at the new retail sportsbook on a variety of US and worldwide sporting events, including parlays, prop bets and in-game bets, through 12 self-service kiosks as well as three over-the-counter machines to place bets.
"We are so excited and honored to be the first operator outside of a casino to offer Maryland residents a retail sportsbook," said Randy Clemens, President of Bingo World. "Together with our partners at RSI, we can offer bettors a world-class in-person sports betting experience at the BetRivers sportsbook and lounge."
To celebrate, today at noon, Clemens will join former Baltimore Ravens and Super Bowl champion Qadry "the Missile" Ismail, BetRivers Director of B2B Services Adam Glass, Maryland State Senator Pamela Beidle, Maryland House of Delegates Member Nicholaus Kipke, Anne Arundel County Executive Steuart Pittman and long time Bingo World customer and community icon Ms. Myra Harris to cut the ribbon to officially open the new sportsbook.
Ismail, who will then place the first bet, is a local sports hero who led the Baltimore Ravens to win Super Bowl XXXV. He is still hailed for catching a 47-yard reception in the game, earning him his first Super Bowl ring.
"This new sportsbook is a huge win for avid sports fans in Baltimore and beyond," said Ismail. "Betting has become such a big part of the sports world and now Ravens Fans and other bettors can come here to be entertained and enjoy the wide variety of betting options BetRivers will offer."
The new 3,000 square foot BetRivers sportsbook at Bingo World offers a full array of entertainment and wagering options, featuring a lounge area with 32 theater-style seats, a generous bar with seating and high tops, 21 hi-def video screens that surround the space airing multiple sporting events concurrently and streaming BetRivers odds boards.
"We are thrilled to partner with Bingo World to launch the BetRivers retail sportsbook in the state of Maryland," said Richard Schwartz, Chief Executive Officer of RSI. "With Bingo World's brand recognition in the Baltimore area, the easy-to-access venue, and RSI's award-winning products and services, we look forward to delivering convenient and exciting sports betting options to retail customers and are excited about building trust and loyalty as they become familiar with our award winning product."