By
Phil
- 16 June 2023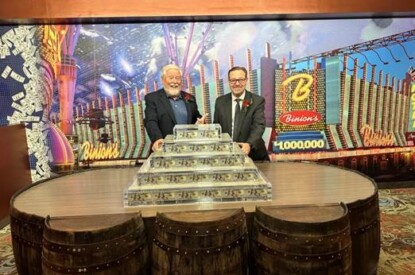 Binion's Gambling Hall & Hotel is proud to unveil its new Million Dollar Display at 128 Fremont St, Las Vegas, NV, in the center of Fremont Street Experience. The famous tourist attraction will officially open to the public on June 16.
Unlike previous displays where you had to wait to get your photo printed, this process is totally automated and you can choose to send your photo to your e-mail address or to your mobile device.
Another new addition to the Million Dollar Display area will be a video that will run continuously on a 50-inch TV, showing exactly how the money was stacked into the plexiglass pyramid display case. The video shows the cage employees stacking the money and then methodically placing the bills in the case. It shows the display moving with armed guards through the casino and eventually placed on the table inside the Million Dollar Display area. Guests can see first-hand that the case truly holds one million dollars.
The breakdown of bills in the display case is as follows: $42,000 in $1 bills, $688,000 in $20 bills and $270,000 in $100 bills totaling exactly $1,000,000. Another interesting fact, the display case weighs a total of 356 pounds: 174 pounds of US currency and 182 pounds of plexiglass.
The history of the Million Dollar Display goes back to 1954. The original display was in the shape of a horseshoe and held one hundred $10,000 bills. When Terry Caudill, president and owner of TLC Gaming Enterprises, purchased Binion's, one of the first things he did was bring back the Million Dollar Display, but transformed it into a pyramid of $1m placed on a poker table for everyone to enjoy. Unfortunately, due to the 2020 pandemic, the display was taken off the floor again. Now it is 2023, and it's back and better than ever! The new display features a new backdrop, so it looks like you are on Fremont Street, standing in front of Binion's, holding $1m. The display is located on the casino floor next to the ALL ACCESS Players Club. Guests 21-years and older are welcome to take their FREE photo. The Million Dollar Display is open 24 hours a day, seven days a week.