By
Phil
- 5 November 2020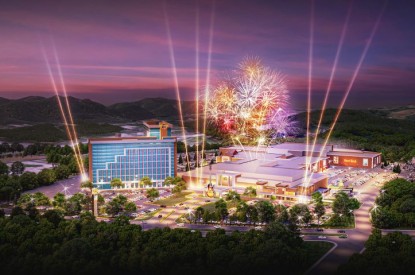 Voters in Bristol, Virginia, have approved the proposed plan for a Hard Rock Hotel and Casino to be developed with 71 per cent of voters saying 'yes' to the project.
It should create between 2,000 and 3,500 jobs and $16 to $21m per year in tax revenue for Bristol.
The Hard Rock Hotel & Casino Bristol is a joint project involving Hard Rock, Jim McGlothlin with The United Company, and Clyde Stacy with Par Ventures. The hotel and casino will be located at the former Bristol Mall, transforming the property into a world-class entertainment and tourism destination that further cements Bristol's reputation as "The Birthplace of Country Music!"
The project includes a two-level casino, seven restaurants, four bars, a 3,200-seat indoor venue, a 20,000-person outdoor entertainment venue, a Hard Rock Cafe with a stage for local and musicians, shops, spa, fitness center as well as a convention and meeting space.
Bristol casino investors Jim McGlothlin and Clyde Stacy, along with Jim Allen, Chairman of Hard Rock International said: "We are incredibly grateful for the strong support we have received from the voters of Bristol, Virginia. Today's referendum vote to bring a Hard Rock Hotel & Casino to Bristol is a vote in favour of more jobs and greater economic opportunity for local residents. This is a win for Bristol and a win for the entire region."
"To be a part of and to help in the rebirth of a city is exciting to us," added Chief Operating Officer of Hard Rock International Jon Lucas.
Together they will invest $400m into the casino project which is expected to generate $130m and bring more than 4 million people to the region.
Jerry Caldwell, of the nearby Bristol Motor Speedway executive vice president and general manager, said: "The substantial economic impact expected to be created by the proposed Hard Rock Hotel and Casino resort at the former Bristol Mall location is one that our area desperately. The new resort is projected to create thousands of jobs, generate millions in tax revenues for the city of Bristol, Virginia and greater Southwest Virginia, provide our residents and visitors with a wide variety of entertainment opportunities, add much-needed hotel rooms and serve as a driving catalyst for future business growth on both sides of the state line. All of us at Bristol Motor Speedway are thrilled about the vast possibilities that such a project would provide, and we certainly look forward to working with the new Hard Rock Hotel and Casino Bristol team to elevate tourism traffic for the benefit of everyone throughout the greater Appalachian Highlands Region."