By
Phil
- 26 April 2018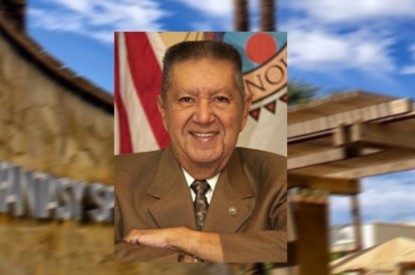 The Cabazon Band of Mission Indians has confirmed the passing of their Elder and former Chairman John James, a man often refereed to as 'the Father of Native American Gaming.'
Chairman James passed away peacefully among family and friends on Saturday, April 21, 2018. Chairman James was one of the most recognized and respected Native American leaders throughout the US and has been called The Father of Native American Gaming, but to the Cabazon Band he was simply "Chairman."
Current Chairman Doug Welmas stated, "Chairman James set the bar for all tribal leaders. His passing is not only a loss for Cabazon, but for all tribal nations. Chairman's service to his country, to his people and to his family is a legacy that we all hope to emulate and to continue to live up to."
Chairman John Alexander James was born in 1931 and spent the early years of his life in the Los Angeles area. He was a Korean War Army veteran serving as a member of the "Wolfhounds" 27th Infantry Regiment, 25th Infantry Division. He received two Bronze Stars and was recognized by President Nixon as an Honorary Navajo Code Talker.
Chairman James was employed by the telephone company for more than 25 years and showed leadership from an early age. He became Secretary/Treasurer of The Cabazon Band of Mission Indians in 1977 and as he got more involved with tribal government, he recognized the need for Tribal self-sufficiency. He saw the establishment of high-stakes bingo and poker as a means of achieving that goal. He was instrumental in guiding the Tribe as it made its way through the court system, leading to the landmark 1987 Cabazon Decision in the U.S. Supreme Court, affirming the inherent right of the Cabazon Band of Mission Indians and other sovereign Tribes across the country to set the course for their own futures and consequently, creating the Indian gaming industry in the United States.
John James was elected into office as Chairman of the Cabazon Band of Mission Indians in 1989 and served in that position for more than 20 years. The Cabazon Band acknowledges him as a leader who persevered through many challenges and was often victorious, all while fighting for the rights of his people.
A recipient of many honours, Chairman James was awarded with the National Indian Gaming Association's John Kieffer Sovereignty Award, recognizing his work toward the protection of Indian sovereign rights. In 2008, he was awarded the Pathbreakers Award by the Indian Gaming Regulatory Act Conference, recognizing his efforts to restore tribal self-sufficiency and respect for tribal sovereignty. He was also honored with a plaque in 2016 at Veterans Memorial Park in Coachella, CA.