By
Phil
- 21 February 2023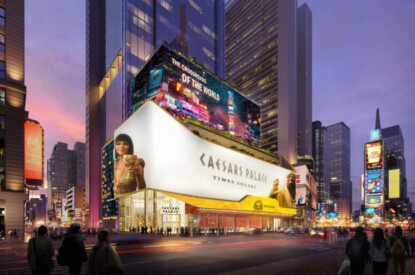 Caesars Entertainment has said it won't get involved in an 'arm's race' if the race to win the rights to develop a casino in New York comes down to who will spend the most money.
CEO Tom Reeg said: "We believe we have the project that will open the quickest and will start paying New York taxes the quickest and an area that doesn't need zoning approval. It's already tourist focused, but I can assure you we're not going to be the one who wins because we built the biggest housing development outside of our casino. We're going to win this on the merits of the property and how quickly we can get open and how well it fits into the local environment. If it becomes an arms race of who's going to spend the most money, we won't win."
The comment came as Caesars delivered mixed results in its fourth quarter, which saw revenues increase by nine per cent with its Las Vegas casinos operating with revenue 11 per cent higher in Las Vegas offsetting a small fall in the regional segment. Occupancy at its Las Vegas hotel was up to 95.5 per cent during the quarter, hitting pre-COVID levels for the first time.
Mr. Reeg said: "It's hard to express how strong Vegas is right now. Occupancy in January was up more than 1,700 basis points over the Omicron-impacted 2022. As we look at forward bookings in Vegas, they're strong and getting stronger. March sets up to be one of the best we've ever had in Las Vegas. As I sit here today, the business feels fantastic."
Caesars fourth quarter generated revenues of $2.8bn versus $2.6bn for the comparable prior-year period, giving full year ended December 31, 2022 revenues of $10.8bn versus $9.6bn. Caesars digital business saw revenue more than double to $232m during the quarter.
This produced a net loss for the year of $899m compared to a net loss of $1bn for the comparable prior-year period. Same-store Adjusted EBITDA of $3.2bn versus $3bn for the comparable prior-year period.
Mr. Reeg added: "Our fourth quarter delivered another set of strong operating results as both our Las Vegas and Regional segments each set a new fourth quarter record for Adjusted EBITDA. Additionally, our Las Vegas segment set a new full year record for Adjusted EBITDA. Caesars Sportsbook delivered significantly improved operating results during the fourth quarter which sets the foundation for a strong 2023. Consumer demand remains strong in all of our verticals and we are optimistic for the year ahead."