By
Phil
- 6 June 2016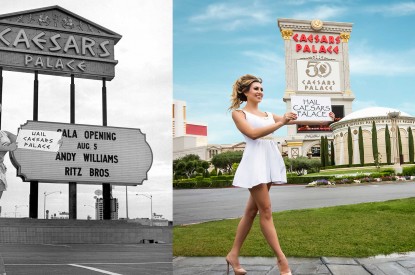 Synonymous with Las Vegas itself, this summer the world-renowned Caesars Palace in Las Vegas is marking its 50th anniversary with a Summer of Caesars celebration beginning Friday, June 17 and extending throughout the year.
The festivities will be highlighted with a weekend of celebration August 5 to 6, 2016.
The anniversary celebration will feature exciting sweepstakes, giveaways, a self-guided historical walking tour and photo exhibit, an interactive social photo experience, special room packages, 50th birthday offers, marquee events and more. The legendary resort set the standard when it first opened on Aug. 5, 1966 and today remains an incredible force at the center of the famous Las Vegas Strip.
"Unlike other famed Strip properties that have now been torn down and swept away, Caesars Palace is more relevant than ever," said Mark Frissora, President and Chief Executive Officer of Caesars Entertainment. "With our portfolio of entertainment superstars and celebrity chefs, the recent room enhancements and new restaurant offerings, Caesars Palace is well poised for the next fifty years. We are excited to show our gratitude and share our 50th anniversary celebration with our guests, partners, employees and community."
Caesars Palace has continuously evolved through the past five decades to become the leader on the Las Vegas Strip. From bringing the biggest names in entertainment including five-time Grammy Award winner Celine Dion to an unmatched collection of celebrity chefs, top sporting and special events, luxury accommodations, premier shopping and the best in gaming action to Las Vegas, Caesars Palace continues to demonstrate its commitment to the next 50 years.
Key to the ongoing success of the iconic resort are its dedicated employees.
Caesars Palace is proud to have five, year-one employees (Pete George, Pamela Price, Jim Dunbar, Benny Figgins and John O'Connell) including Jim Dunbar who has been a faithful team member since day one Aug. 5, 1966. Recently, these esteemed team members were treated to a VIP meet and greet with Celine Dion. The group also enjoyed the show and took a commemorative picture with the legendary music icon.
As part of a $1bn investment in the resort, Caesars Palace has recently opened the luxurious new Julius Tower (a stunning re-imagination of the hotel's original Roman Tower); launched OMNIA Nightclub regarded as the world's best nightlife venue boasting international superstar DJ's; created a stunning homage to cigar and cocktail culture with the Montecristo Cigar Bar; redefined the dining experience with the addition of global culinary phenomenon MR CHOW and welcomed back music icon Celine Dion to center-stage at The Colosseum, along with its newest resident artists, Mariah Carey, Reba McEntire andBrooks & Dunn as well as long-standing legendary residents Elton John, Rod Stewart and Jerry Seinfeld.