By
Phil
- 2 May 2019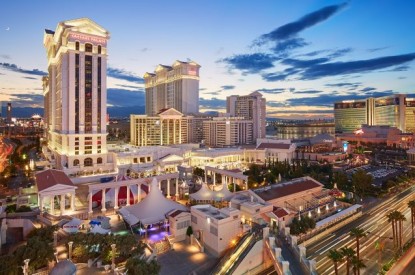 Las Vegas giant Caesars generated a loss in its first quarter of $217m whilst income from operations surged by about 92 per cent year-over-year, reaching $240m.
A resurgence in Las Vegas, the expansion to now 17 sports books and the additional revenues from the properties bought from Centaur all played their part as net revenues reached $2.1bn in the first quarter, up 7.3 per cent year-over-year.
On a same-store basis, net revenues grew approximately 0.9 per cent as strength in Las Vegas was partially offset by the impact of a heightened competitive environment in Atlantic City and inclement weather across some of our regional properties that drove closures in some instances.
"Caesars delivered another solid quarter of revenue and EBITDAR growth, as well as margin improvement," said Eric Hession, Executive Vice President and Chief Financial Officer. "We realised strong contributions from the Las Vegas gaming and hotel businesses, and Centaur, in addition to further operating and corporate efficiencies. These results were partially offset by the impact of competition in Atlantic City, and weather-related property closures. In addition, we generated strong cash flow from operations, which allowed us to pay off our $100m revolver balance."
Las Vegas gaming revenues increased 6.6 per cent year-over-year due to favourable hold that improved slot volume. Strong revenue growth was partially offset by a decline in table game volumes notably in baccarat as the company experienced a softer Chinese New Year versus last year.
Joyce Arpin, Caesars Entertainment Corporation – VP of Finance & Assistant Treasurer, said: "We believe we are well positioned to benefit from growth in Las Vegas and continue to be bullish on the city over the long term. In the first quarter, visitor volumes to Las Vegas increased 0.8 per cent, convention attendance increased 1.5 per cent and deplaned passengers increased 2.6 per cent. We view the overall demand environment in Las Vegas as stable, despite the quarter-to-quarter volatility driven by shifts in the citywide events calendar and holiday.
The results also included results from the three Indiana properties bought last year from Centaur; namely Hoosier Park Racing and Casino in Anderson, Indiana, and Indiana Grand Racing and Casino in Shelbyville, Indiana.
Mr. Hession explained: "The performance of Centaur remains in line with our expectations, and we've exceeded our internal plan in the first quarter. We're pleased with the progress in obtaining legislation in the State of Indiana. If enacted, the legislation would enable us to introduce table games earlier than anticipated and would allow sports betting within the state."
Caesars' sports betting business remained on track during the first quarter with the introduction of a new sportsbook at Harrah's Philadelphia Casino and Racetrack, bringing its total number of sportsbooks to 17, with five of these being located outside of the State of Nevada.
"While it's still early days in terms of customer acquisition and market share, we continue to view sports betting as a solid growth opportunity," Mr. Hession explained. "We anticipate opening additional sportsbooks at our regional facilities in the next 12 months, pending favourable legislation."
He emphasised that Caesars hadn't opened its permanent sportsbooks yet. Once it does it expects to see a much larger increases in terms of the bets taken at the properties.
"We're opening one on the boardwalk in the middle part of this year," Mr. Hession said. "That coincides with similar reaction to what we're seeing in the Mississippi sportsbooks. Those sportsbooks are definitely driving traffic to the properties. Our nongaming beverage and food spend is up, particularly during events where you have high concentration of sports betting people in the properties. But those are proving to be traffic drivers. We're very optimistic about the other new states that are either pending with legislation or are currently debating it that ultimately this will be a great traffic driver for our casinos in the regional markets."