By
Phil
- 6 November 2019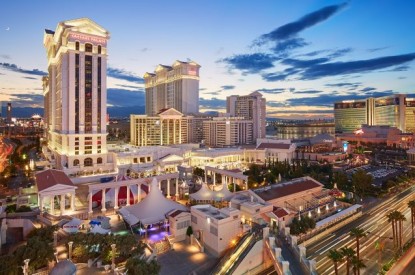 Caesars Entertainment saw its revenues increase by 2.3 per cent to $2.24bn in the third quarter of 2019 driven by growth across all of the company's business verticals and favourable hold in Las Vegas.
It reported a loss of $359m although the quarter was described as 'solid.'
Gaming revenues were up by 17 per cent due to $37m of favourable year-over-year hold in increased gaming volumes. Total gamming volumes increased two per cent year-over-year. Table revenue was up 2.5 per cent led by baccarat up 18 per cent and slot revenue was up 1.7 per cent.
Las Vegas cash hotel revenues grew 8.1 per cent year-over-year, making the highest third quarter Las Vegas cash hotel revenue in company history.
Tony Rodio, CEO of Caesars Entertainment, said: "We are pleased to have delivered solid financial results in the third quarter with net revenue growth across all business verticals, despite headwinds across our portfolio. Revenue performance was driven by our Las Vegas region due to increased consumer demand, with particular strength in the hotel business which continues to outpace prior years across properties. Coupled with corporate expense reductions, this led to strong adjusted EBITDA growth as well as margin expansion."
"We are very pleased that we were able to deliver these strong results in the third quarter despite headwinds across our portfolio, including road closures in Indiana, which impacted visitations at Hoosier Park and Indiana Grand, also the temporary closure of the Colosseum at Caesars Palace and rooms at Harrah's Las Vegas for renovation," he added.
"We continue to grow our sports betting business across the third quarter and are pleased with the progress we've made over the past year. We've recently expanded Caesars sports books to Iowa and Indiana and now have Caesars branded sports books across 29 locations in seven states: Nevada, New Jersey, Pennsylvania, Mississippi, Iowa, Indiana and New York."
"Mobile sports betting is already live in Nevada and New Jersey and we expect to launch in Pennsylvania pending regulatory approval," Mr. Rodio explained. "The new sports books are driving increased visitation and customer engagement across our portfolio and we expect sports betting to be a key value driver for the company over the coming years.
In September, Caesars announced an agreement to sell the Rio All-Suite Hotel & Casino for $516.3m. The sale is expected to close by the end of 2019, and Caesars will continue to operate the Rio for a minimum of two years pursuant to a lease agreement to be executed at the closing. The property will remain part of the Caesars Rewards network during the term of the lease.
Caesars filed a definitive proxy statement with the SEC on October 11, 2019, and the shareholder votes for each of Caesars and Eldorado Resorts, Inc. on the merger agreement will occur on November 15, 2019. The two companies have made significant progress on the integration planning process, and the merger of the two companies remains on track to close in the first half of 2020, subject to all required regulatory approvals.