By
Phil
- 9 November 2020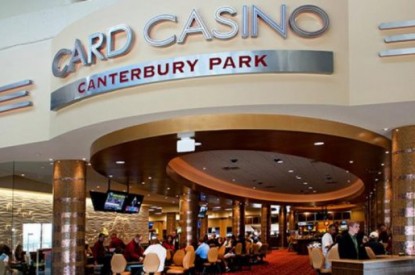 Minnesota's Canterbury Park saw its net revenues for the three months ended September 30, 2020 decrease 28.5 per cent to $13.3m, reflecting the ongoing impact of the COVID-19 pandemic, including the state mandated capacity limitations and weakened visitor demand subsequent to the reopening of Canterbury Park.
Pari-mutuel revenues increased $606,000, or 16.9 per cent, over the prior-year period due to an increase in out of state handle, partially offset by decreases in simulcast wagering and in live racing revenue due to state-mandated capacity limitations reducing visitors to approximately 10 per cent of the prior-year period and an 18.5 per cent reduction in the number of days in the racing season. For the three months ended September 30, 2020, Card Casino revenues decreased $1.4m, or 16 per cent, as compared to the same period in 2019, food and beverage revenues decreased $3m, or 77.6 per cent, as compared to the same period in 2019, and other revenues decreased $1.6m, or 59.5 per cent, as compared to the same period in 2019.
"While our third quarter results reflect the continued impact of the Covid-19 pandemic on all aspects of our operations at Canterbury Park, the quick actions we took to reduce labour and other operating expenses along with our disciplined approach to conserving cash have helped ensure we have the liquidity and flexibility to position the Company for long-term health and growth," said Randy Sampson, President and Chief Executive Officer of Canterbury Park. "Notwithstanding the pandemic restrictions, since reopening in June, our financial performance consistently improved throughout the quarter. As a result, we were able to generate positive cash flow in the third quarter of 2020.
"Our operations included month-over-month improvement in table games revenue in our Card Casino throughout the third quarter of 2020 compared to the prior year. While July was down by double digits compared to a year ago, it steadily improved and was down single digits in August and up slightly in September. In our racing and pari-mutuel operations, we completed a safe and modified 53-day race meet. Due to capacity being limited to approximately 10% of the average number of visitors we would normally accommodate, and as a result of the loss of 12 racing days, we saw a 65% decrease in on-track wagering on our live races. However, our decision to shift our racing schedule to weekday afternoons allowed us to increase our market penetration, resulting in a 116% year-over-year increase in handle from out-of-state wagering outlets. We continue to work closely with state and local officials to increase capacity in our Card Casino and our simulcast wagering location in a safe manner and to communicate our health and safety efforts to our guests. We expect that when allowed to operate without the current restrictions and as guest visitation begins to return to pre-pandemic levels, the financial performance of these operations will continue to improve.
"Notwithstanding the partial recovery in our Card Casino and pari-mutuel businesses, pandemic-related restrictions on our special events and group sales operations impacted the third quarter operating performance and will continue to impact our non-gaming business for at least the next several months. To address this near-term challenge, we recently made the difficult decision to align staffing levels with the current level of our non-gaming business. These actions included leaving vacant positions unfilled, furloughing team members, pay reductions for senior leadership and some job eliminations. While the decision to undertake these actions was very painful to make, they have allowed us to reduce expenses to a level that we believe will help us sustain our long-term viability. We greatly appreciate the patience and support of our team members during this period of uncertainty caused by the COVID-19 pandemic, and we look forward to a brighter future as restrictions on our operations ease.
"Importantly, the pandemic has not had any notable impact on our consistent progress in unlocking value for our shareholders by monetizing the excess acreage around Canterbury Park through the development of Canterbury Commons. Development activity for this unique and new residential, commercial and retail community remains busy with six active projects on approximately 50 acres of land currently underway in various stages of development, pre-development or approvals. Committed development projects to date include the Triple Crown Residences and the southwest development ground development which include a number of commercial pad-ready sites for future development. The residential population at Canterbury Commons is beginning to be established as leasing activity accelerates for the upscale apartments at the Triple Crown Residences. In addition, the new corporate headquarters for Greystone Construction, which represents the first commercial development at Canterbury Commons, is progressing. It is very encouraging to see the daily transformation taking place, and we believe that bringing a new population center to the doorstep of Canterbury Park will drive new energy and economic benefits for our Card Casino, racing and hospitality operations. We are making progress on additional agreements to further monetize the remaining excess real estate. Overall, we expect the development of Canterbury Commons will provide for a long-term stream of cash flow and create value from our excess land which we believe is not currently reflected in our share valuation."
Mr. Sampson concluded, "Prior to the pandemic, we were achieving consistent operating improvement and expect we can regain that momentum as normalized operations resume. In the interim, we remain focused on providing an outstanding and safe entertainment experience at Canterbury Park while maintaining the cost and cash management discipline needed to ensure that we can execute on growth opportunities in the future. We are confident Canterbury Park has the balance sheet and financial flexibility to support our current operations and to execute on future growth initiatives for our Card Casino, pari-mutuel and hospitality operations at the appropriate time while unlocking value through the development of Canterbury Commons."