By
Phil
- 14 November 2022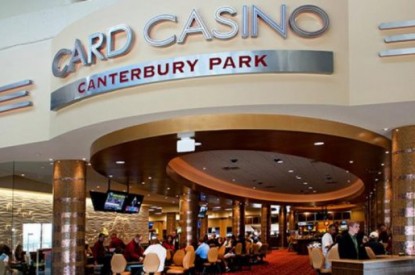 Canterbury Park Holding Corporation Reports generated revenues for the three months ended September 30, 2022 up 4.4 per cent to a third quarter record $22.3m, compared to $21.3m for the same period in 2021.
The year-over-year increase reflects the success of targeted marketing efforts which helped drive continued strong Card Casino and Racing operating results and an expanded events calendar which resulted in higher visitation and spend across the company's operations, particularly in Food & Beverage.
Randy Sampson, Chairman and Chief Executive Officer of Canterbury Park, said: "We delivered record third quarter results, including 4.4 per cent year over year revenue growth to $22.3m and 3.2 per cent adjusted EBITDA growth to an all-time quarterly record $5.3m. We achieved both record revenue and record operating income for the third quarter as visitation and spend per visit continues to outpace pre-pandemic levels and is driving improved financial results following the full reopening of our operations last year."
"While Card Casino revenue was down slightly from the same period last year it was up more than 17% compared to the same period in 2019. Our Racing and Food & Beverage operations also generated strong results as we concluded a great 2022 live racing meet in the third quarter. Across the 64 days of live action, our quality, differentiated thoroughbred product attracted record total handle, record out of state handle and healthy attendance, which collectively benefited the balance of our operations. In addition, our Food & Beverage and Events businesses continue to benefit from the return of more normalized operations, including increased demand for both catering and special events.
"Adjusted EBITDA as a percentage of total revenue of 24% during the third quarter represents the sixth consecutive quarter in which this metric has exceeded 20%. This also compares very favorably to Adjusted EBITDA as a percentage of total revenue of 11% achieved in the 2019 full year period. Our performance is clearly indicative of our efforts to expand the efficiency of our operations, including refinements made to marketing and promotional programs to ensure they are driving profitable revenue. We also continue to diligently manage our cost structure in a challenging economic and inflationary environment as we work to offset higher expenses across the business, including higher labor expense. While these challenges are likely to continue into 2023, we remain confident that our team has the right plans and strategies to sustain strong margins and cash flow.
"Canterbury Commons remains a hub of activity as work continued throughout the quarter on a variety of residential and entertainment projects. Swervo Development Corporation ("Swervo") has now obtained all the requisite state and local approvals, and we expect to soon complete the sale of the land on which they will develop their proposed 19,000-seat concert amphitheater. Community response to the planned project has been very strong, and we're excited to see the amphitheater rise alongside our racetrack as construction gets underway next year. In connection with this keystone project, we've received approval from the Minnesota Racing Commission to begin work on our stable improvement plan. This plan represents a vital investment in our racing operations and the broader Minnesota racing industry and will free up real estate on the Canterbury Commons site for additional developments that can build on the success of our earlier land sales and development joint ventures and further unlock its untapped value.
"Canterbury Park remains very well positioned to continue to benefit from our business-wide momentum as our Card Casino, Racing, Food & Beverage and Events operations generate consistent growth. At the same time, the development of Canterbury Commons is matching our long-term vision to drive traffic to our property thanks to the diverse array of residential and entertainment options that are taking shape. Furthermore, with $19m of unrestricted cash as of September 30, 2022 alongside the cash proceeds that will be received for the sale to Swervo as well as sizeable income tax and TIF receivables, our clean balance sheet represents another source of underappreciated value. This, along with our consistent free cash flow generation, positions us to return capital to shareholders through our regular quarterly cash dividend and to simultaneously review potential strategic transactions where we can diversify and grow our business while bringing to bear our operating expertise and strong financial position. We are excited to finish out 2022 on a strong note and enter 2023 delivering on our strategies to generate long-term shareholder value."